Let's be honest: it's a crazy world right now.
We have crises going on that on their own would be significant, major, and global, and we have several of these things happening at the same time. For example, we have a war, plus an impacting famine with the food crisis, global inflation, pestilence and plague with the pandemic, and political upheaval. It's all happening at the same time.
Rising cost of debt, rising cost of supplies, challenges in finding and keeping the talent needed to drive services, inflation, increases in energy and fee costs; create a perfect storm for hoteliers. It's understandable that a sense of doom might creep in. But beware. This sense of doom, coupled with inertia, can create stasis and uncertainty, and that is dangerous to business.
What we need to focus on is the innate strength of the hospitality industry. And from that pull a sense of optimism to propel us forward.
I saw this optimism best displayed recently at the Phocuswright Europe Conference, when Fernando Vives, CCO of NH Hotel Group, told the audience 'We made it… We have to feel proud,' as he considered how the industry has come through the last couple of years. But behind this optimism was an important message, as Vives talked about how the industry has changed in the past couple of years.
We are all having to work alongside these challenges, and it is forcing us to try different things as we go along.
This brings us back to a similar mindset to how we thought about things during the very intense period of the Cold War. During that time there was this philosophy called VUCA, which stands for Volatility, Uncertainty, Complexity, and Ambiguity.
Understanding VUCA
Volatility

Volatility because of rapid and unexpected challenges. If you had asked me in December 2021, if we would have seen a full-scale war in the middle of Europe by the middle of February, I would not have predicted that. If you had asked me in January 2020, if by April 2020 three quarters of the world would be locked in their houses watching Netflix because they were afraid of catching a bug, I would not have predicted that either.
Uncertainty

This volatility, these rapid changes, create uncertainty in the world around us and they make us unsure of what we are doing. This uncertainty makes it difficult to predict and forecast. It's hard to understand what your costs will be when you see inflation spiking, you have a difficulty in hiring staff, and you see wages stagnate and growth falling backward. And to hear talk of a recession coming in certain parts of the world.
Complexity
This uncertainty and changes also create lots of complexity in our decision-making.

When do were open our property?

Which floors do we bring back?

How much do we charge?

What kind of rates can we achieve?

What technology do we use?
There are suddenly so many more questions.
Ambiguity

The choices, the complexities, and the uncertainty start to swirl around us. And we get that 'Rabbit in the headlights' situation where there are so many unknowns, there are so many difficulties that we get into a state of ambiguity stasis. We can't make decisions anymore. This can lead to a very risky state of inertia which holds back growth and stifles innovation.
We're just completely reactive to every crisis that comes along, and we lost control of our business. We have lost the ability to drive decision-making, and we have become reactive players in the market.
This is the situation that many hoteliers find themselves to be in now. It generates panic and difficulty in deciding to move forward, they are uncertain about how to react to and work with the guest and the market.
The Catalyst for Change
But what happens in this situation is that this environment of uncertainty becomes a catalyst for positive change. This becomes a huge opportunity to drive a different way of doing business to accelerate positive trends and innovations, and to adopt habits of
flexibility, speed, and agility, which allows us to not only embrace change but to drive the business forward to positive outcomes for our economies and our employees.
Just look at some of the amazing inventions and changes we have seen in the past couple of years. The QR code was first invented in 1994 but we only started to use it when we needed to two and a half years ago. We have automated check-in. We have an explosion in direct booking channels and a huge progression in value-added personalization, just see Duetto's latest upselling integration with Oaky for proof of how that works. We are enabling experiences.
We must make the best of all things and put them together. At Duetto, we take the best of automation with the best of humanity and create customer-controlled automation routines that allow them to look at the marketplace.
For us, this flexibility and adaptability are founded on several key tenants:
It's our ability to be multi-tenant in a cloud-based environment.

It's our ability to look forwards then backward then forward again with data in the marketplace.

It's our ability to combine the best of human with the best of machine to make our businesses as agile as they can be, using Open Pricing in a cloud-based environment to continuously update and adapt to the needs of the marketplace around us.


Spin VUCA on its head
By doing this, we can spin VUCA on its head.
Vision
We can use our position to take the volatility of the marketplace and drive a compelling vision about how we see the integration of products, services, human interaction, and automation for the benefit of the marketplace.
Understanding
We can eliminate uncertainty by developing a deeper understanding of the way that our business functions, especially the way it functions with the customer.
Clarity
We can clear complexity, by establishing clarity of focus on the products and the applications that we have.
Agility
And by being agile we sidestep ambiguity, and we keep our business and our people moving forward in a direction that makes sense and delivers positive outcomes for the marketplace around us.
I remember many crises: 9/11 and the impact it had on travel. Some of us thought we would never come out of that. It was a terrible moment in our industry history.
I remember the ash cloud, the first outbreak of SARs, and the tsunami.
I remember businesses I thought were iconic and would never die, such as Thomas Cook, disappearing from the marketplace.
And I watched the consequences of the pandemic.
But we are still here.
Creating Change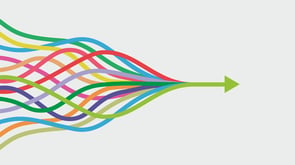 Every time these things happen, we pivot, we learn, and we move forward.
If we can embrace the change, we can create agile and flexible hospitality models, and we will not only meet the rapidly changing needs of the customer, we will shape the rapidly changing needs of the customer.
But to do this we need to see and understand the big trends being felt throughout the marketplace:
Sustainability

Digital transition

Data fluidity

Inter-modality

Hybridity

Agile working practices

Regional realignment

Fragmentation
If we can embrace these things through these volatile changes, if we can be companies who put the customer journey first and foremost, and work back from that position, then we will be the ones to succeed and we will do that together.
Are you ready to join us? Get in touch today: https://www.duettocloud.com/contact
Back to Library