While 2016 was marked by uncertainty and political instability in Europe and parts of North America, it was mostly business as usual in Asia. However, in today's connected and globalised world, nothing happens in isolation. As hoteliers in the Asia-Pacific region wait to assess the fallout from 2016 on hotels in Europe, they nonetheless should be getting proactive about limiting their own downside risk in 2017.
Hotels in Asia were for most of 2016 playing for volume, trying to balance demand with an ever-increasing supply of inventory. STR Global reports show there was a steady and healthy growth of hotel occupancy in Asia. The region started the year at 66.1% in January, and by October, occupancy had built to 71.3%. However, ADR did dip 0.4 percent to $103.77.
That is why, looking ahead to 2017, many hoteliers say they will be focusing on rate growth.
Because one size never fits all when it comes to hotel room rates – nailing down who gets what price and why can be an intensive and complicated exercise – especially without the right tools and tactics. Hence a well-designed (and frequently updated) hotel segmentation strategy is necessary to take the guesswork out of this crucial first step in revenue management.
Determining the Best Sales Mix
Hotel segmentation is a critical first step for managing revenue because it helps identify customer groups that drive higher ADR and profitability — which deserve particular focus from properties' revenue and sales departments.
RELATED WHITEPAPER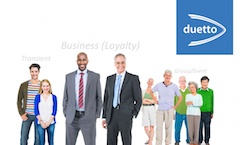 The Revenue Manager's Guide to Advanced Segmentation
"Rather than just growing rate across all segments," said Philip Niemann, director of customer success in the APAC region for Duetto, "hotels are looking at how the segmentation mix can be modified to achieve a higher ADR. That means increasing the share of the segments that generate a higher ADR and building a base with lower-ADR segments so that they feel confident driving for a higher rate with others."
It begins with breaking down the different types of customer groups and booking channels and being aware of how much each contributes to occupancy and revenue. How a hotel chooses to segment its business can determine Revenue Strategy success or failure before even the first price is set.
In order to get a deeper understanding of your customer base, you need to know the sources, habits and prevalence of your guests. Start by divvying up customers into these traditional five groupings:
Group vs. Transient
Business vs. Leisure
Weekday vs. weekend, by length of stay
By price: Dynamic (transient) vs. fixed (wholesale, corporate negotiated rates)
By channel: GDS, OTA, brand.com, CRS, voice, mobile
From here, you can then more deeply tailor your data to the needs of your different hotel departments for reporting, marketing and forecasting.
[bctt tweet="How #hotel segmentation can stave off recession impact in #APAC" username="OptimizeDemand"]
Your revenue management department will need to make sure its technology stack, particularly the RMS, can make adjustments to customer segments as demand conditions change in the market, in some cases automatically remapping historical data. In these dynamic times, hotels in Asia or anywhere else cannot tolerate a system that does not allow them to adjust on the fly.
If the hotel's segmentation is flexible, then its revenue managers can and should create countless segments. Start with a simplified layer that is easily understood by the hotel's various departments, and then start subdividing into a more complex level that paves the way for more precise and tailored rates.
Segmentation gives you a much clearer understanding of who's booking your hotel and why. The more you leverage this data, the more profitable you'll be, especially during uncertain times when markets can rise and fall dramatically.
RELATED ARTICLES