Duetto's latest Revenue Strategy Forum (RSF) event took place on June 28, 2023, at the Hôtel Marignan Champs-Elysées, Paris.
A gathering of hotel revenue leaders and technology providers, the line-up included a keynote on 'Leveraging ChatGPT for exceptional customer service and personalized experiences' by Sébastien Felix, CEO & Founder at Influence Society; a session on 'How to drive more direct bookings with Google?' by Weirong Zheng, Strategic Partner Manager at Google; and lightning rounds by D-Edge, Oaky, and Oracle Hospitality.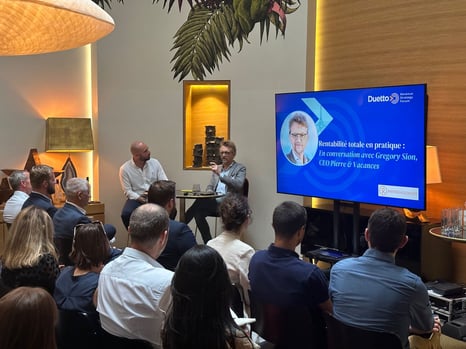 One of the afternoon's highlights was the fireside chat session, which saw Gregory Sion, CEO, Pierre & Vacances, share insights on the company's recent repositioning and its technology strategy with Quentin Vuillin, Director of Sales EMEA at Duetto.
For those of you who missed this educational event, here's a recap of the conversation:
Vuillin: Tell us more about Pierre & Vacances and where the company is at right now.
Sion: Ultimately, our aim is to sell vacations in the most beautiful spots in France and Europe, with the product that our customers expect. So, we've repositioned the brand; from a well-known brand that nobody really understood, to a brand that we hope will be just as well-known but younger and more modern, with ultra-localized products.
We're lucky to have been around for 55 years. We've been around for a long time, so we've grabbed the best spots in the mountains, on the coast, throughout France and Spain, and a little elsewhere in Europe, so we're well-positioned. We've put in great teams, and we're working hard on customer relations. After all, the change we've made is to focus on the customer. It's simple, there are two things that matter: the customer and data. The rest? It's not important.
So, we test, we do lots of things, we put the customer at the center, and what did that achieve? Well, we've got an advertising campaign which means that now even young people know about the brand, which wasn't the case five years ago. We've increased satisfaction by 25 points, and our PS is around 45, which is starting to be a good performance for 200 destinations.
Vuillin: How has performance been for 2023 so far and what is your outlook for the rest of the year?
Sion: It's been extremely good both in terms of price and occupancy. The summer season is off to a great start.
I think everyone saw that May was a little chaotic. We're starting to see a few bumps in the road, but we're getting back into the swing of things. In fact, it's a bit like the world before COVID, less last-minute, etc., but it's still going to be a great year, just as last year was great.
Vuillin: Let's talk a little more about technology, your strategy with tech, and how it helps you to make the right decisions.
Sion: I think that most will agree that there are more and more tools, more and more technology, and more buzzwords now. It's morning, noon, evening, aperitif... It's everywhere, in every direction. The thing is, these tools are ultra-useful. However, we have a lot of pragmatism at Pierre & Vacances. We can't do everything. This year, it's RMS / PMS.
The second element is to surround yourself with the right partners. Data is great. You can have reports all over the place, thousands of pieces of data, there's more and more. But if you don't have someone to tell you where to look and what report to pull, you are wasting time.
So, the goal is to have experts and ask them: "Help me do the right things faster because I want to save time and I want to benefit from your expertise."
And the last point is the same: we listen to the customer, we listen to the data, and we must measure everything. This last point we apply to the maximum.
Pierre & Vacances contracted with Duetto in early 2023. Discover how your hospitality business could benefit from our award-winning revenue solutions. Take our ROI Calculator to see the results: https://www.duettocloud.com/tools/roi-calculator
Back to Library