As early as the 1930s, Ibiza, the third largest island in the Balearics, has had a pull with local and international travellers. First came the avant-garde European artists, followed by travellers looking for rest, relaxation and beautiful beaches.
In the 1970s the island's tourism offering changed to attract a younger crowd, with the opening of the Pacha nightclub.
Today, the island continues to attract the music industry's elite, with jet set DJs constantly flying in as nightclubs compete to attract the biggest names and the largest crowds.
Established in the 1960s, Palladium Hotel Group has played an important role in the development of tourism on the island.
Today, the company operates more than 50 hotels in Ibiza, mainland Spain, Mexico, the Dominican Republic, Jamaica, Italy and Brazil. Its portfolio includes 10 brands: Grand Palladium Hotels & Resorts, Palladium Hotels, TRS Hotels, Palladium Boutique Hotels, Fiesta Hotels & Resorts, Ushuaïa Unexpected Hotels, Ayre Hoteles, Only YOU Hotels, and Bless Collection Hotels. The company also operates Hard Rock Hotels in Ibiza and Tenerife.
However, Ibiza remains its cultural home.
---
Discover more about how a physical and digital transformation of Palladium's Ushuaïa Ibiza Beach Hotel enabled the property to drive rate increases in our Case Study. Download now.
---
We caught up with Diego Fernández, Corporate Revenue Director for Palladium Hotel Group, to talk to him about managing a revenue strategy across such a diverse collection of brands, and how superstar DJs influence price.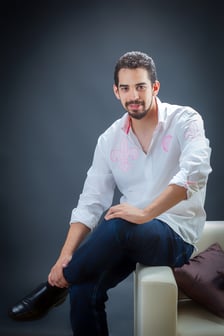 How does your revenue strategy differ across the various brands?
With the goal of giving each one of our clients a personalized experience, we operate under a huge brand portfolio. We have hotels for families, couples and groups; for adults only; for music lovers; for cosmopolitan people… and all of them in key locations, such as the downtown areas in the main cities in Spain or exclusive coastal destinations also in Spain as well as Sicily, the Caribbean and Brazil.
Specifically, with unique products such as Ushuaïa Ibiza Beach Hotel, we offer travellers the exclusive opportunity to enjoy luxury services and suites while they can see performances by the world's best DJs. In this regard, our revenue managers study our business needs and adapt the strategy according to this. For example, even though Ushuaïa Ibiza Beach Hotel and Hard Rock Hotel Ibiza are located only 100m away from each other, the strategies are very different as the products and the brands are completely different.
Besides, we have also a room-type strategy. For example, in Ushuaïa Ibiza Beach Hotel we have 18 room types and each room type has its own demand and its own pricing strategy. Therefore, for us it is very important to have a tailor-made strategy for each unit that we are working with.
How do DJs affect the room rates at Ushuaïa Ibiza Beach Hotel?
The Playa d'en Bossa area, where Hard Rock Hotel Ibiza and Ushuaïa Ibiza Beach Hotel are located, is one of the most expensive areas in Europe in terms of ADR and RevPAR. We always adapt our prices depending on the specific demand and this may substantially increase according to which DJ is playing or which event is taking place in a specific moment. We are always working together with the Ushuaïa Ibiza Beach Hotel and Hard Rock Hotel Ibiza teams in order to know these key dates and we adapt our pricing strategy depending on the relevance of the artist and the potential demand.
How would you describe your distribution strategy?
I think that one of the key successes of the hospitality industry is to have everything in balance. In Palladium Hotel Group we think globally, adapting our decisions depending on the business necessities. With our distribution strategy we proceed in the same way; for example, if one market is suffering, we can replace this market with another one. However, it is important to recall that the strategies for each market are very different from each other and it is not the same to work with the UK and to work with Germany. Each market must have its own strategy and to know the particularities of each market is essential to develop a great performance.
How is your revenue team set up?
We have two main offices: our central office in Ibiza where we are giving service to the properties in Europe, and another office in Santo Domingo, Dominican Republic, where we are giving service to all our resorts in the Caribbean and Brazil. Our department is divided in two areas: the booking centre and the revenue team.
In addition to this, our revenue department is divided into three areas: data and analytics, project management, and revenue management.
In Ibiza we have 15 people in the revenue department and 20 in the booking centre, and in the Caribbean, we are more than 66 including the booking centre and revenue management team. We are proud to say that we have become a very important department in PHG.
How does Duetto help you be more strategic?
We are more agile in taking decisions and these are better because we have more data and information. One of the key successes for this project with Duetto is the adoption of the Open Pricing philosophy. Our pricing philosophy was really close to it anyway, because we never worked with rate structures, or rates that you need to close one rate and then put in the market another rate. Pricing is important but it is more important to be visible and always be in the market.
Back to Library