The position of Director of Revenue Strategy is like no other in the hospitality industry. The range of expertise, talents and experience required to successfully guide a hotel to maximum revenue generation and profitability cuts across the spectrum of hotel disciplines and departments.
While no two DRS positions or people who occupy those positions are alike, professionals in the field need to possess a number of bedrock talents that are crucial to success. Among them:
Data analytics. A DRS must be analytical by nature, but that means more than just knowing how to use Excel. He or she must be comfortable using data to diagnose problems, as well as to find ways to improve business.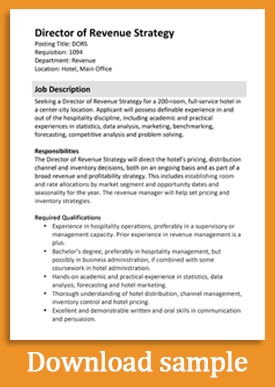 The primary role of the DRS is to understand data, synthesize that data, take strategic actions based on the data and, very importantly, verbalize and explain the findings to other people within the organization.
Inventory and pricing controls. The main responsibilities of a DRS are managing a hotel's inventory and availability and making sure that availability is priced correctly. The focus must be on maximizing revenues in order to maximize profits.
And while a DRS doesn't have direct control over the cost side of the business, he or she is highly influential in everything that happens on the revenue side. That means getting the highest prices possible to achieve optimal occupancy with the optimal business mix by channel, taking into consideration the cost of acquisition for each channel.
Business and hospitality balance. Revenue strategy requires a balance between business acumen, including a healthy dose of statistics, marketing and other skills, and a background in the hospitality space. A DRS needs a thorough understanding of the ways hotels sell rooms, plus a deep understanding of hotel distribution, sales, marketing and operations.
While a hotel background is important, it is difficult to quantify how much and what kind of experience that should be. Some DRSs might be successful even after only a rotation through hotel departments for six months to a year. It's important to be steeped in the business of hospitality, but it doesn't take 20 years of experience as a general manager.
[bctt tweet="The position of Director of Revenue Strategy is like no other in the hospitality industry."]
Communications. The ability to communicate strategies, philosophies and tactics to others up and down an organization is crucial for a successful DRS. He or she needs to be able to explain his or her findings in a digestible manner. A DRS also must be able to influence people and get them to rally around his or her ideas and strategies.
At one time, the revenue manager—as he or she probably was known at the time—was confined to a back-room cubicle. Today, quite often the DRS is found sitting at an executive boardroom table meeting with owners, asset managers, management company executives and others on the executive team of the hotel.
As a result, the difference between success and failure in the role is communications. A DRS must be able to communicate a vision effectively, manage conflict and be able to share bad news as well as to celebrate accomplishments.
Task-oriented focus. One sometimes-forgotten element of the revenue strategist position is to make sure his or her time is being effectively spent on the things that actually drive the most value for a hotel.
Because the DRS has a fairly unique skill set at a hotel, he or she can be easily bogged down and distracted by things that ultimately don't add that much value. Being able to be ruthless and prioritize time is a key part of the success of a revenue strategist.
Taking these areas into account, here is a sample job description for a Director of Revenue Strategy:
Seeking a Director of Revenue Strategy for a 200-room, full-service hotel in a center-city location. Applicant will possess definable experience in and out of the hospitality discipline, including academic and practical experiences in statistics, data analysis, marketing, benchmarking, forecasting, competitive analysis and problem solving.
The Director of Revenue Strategy will direct the hotel's pricing, distribution channel and inventory decisions, both on an ongoing basis and as part of a broad revenue and profitability strategy. This includes establishing room and rate allocations by market segment and opportunity dates and seasonality for the year. The revenue manager will help set pricing and inventory strategies.
Requirements for the job:
Experience in hospitality operations, preferably in a supervisory or management capacity. Prior experience in revenue management is a plus.
Bachelor's degree, preferably in hospitality management, but possibly in business administration, if combined with some coursework in hotel administration.
Hands-on academic and practical experience in statistics, data analysis, forecasting and hotel marketing.
Thorough understanding of hotel distribution, channel management, inventory control and hotel pricing.
Excellent and demonstrable written and oral skills in communication and persuasion.