Iconic downtown casino will implement a modern, data-driven approach to casino revenue management.
Las Vegas, February 4 — The Downtown Grand Hotel & Casino has implemented two of Duetto's cloud-based applications – GameChanger for pricing and ScoreBoard for reporting – and partnered with Duetto for Strategic Consulting services to drive more profitable revenue at the iconic property.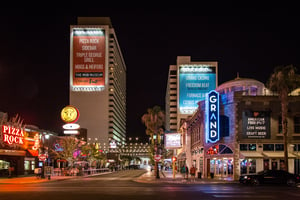 With GameChanger, Duetto's flagship revenue management application, The Downtown Grand has better visibility into total customer value and the ability to shape reinvestment and marketing decisions to attract the most profitable guests. With ScoreBoard, the revenue team has the ability to create intelligent reports and deliver actionable insights to key stakeholders in real time.
Partnering with Duetto for Strategic Consulting affords the casino access to decades of casino revenue management experience for hands-on rate management.
Ben Chan, Director of Revenue at The Downtown Grand, says his team was shopping for a revenue system that would help them make more strategic marketing decisions and optimize revenue for each booking.
"As much as we want improved financial performance through more dynamic revenue management practices, we were also looking for a strategic growth partner," Chan said. "Having recently commenced construction on an additional 495-room hotel tower, The Downtown Grand is focused on ensuring we remain the centerpiece of a revitalized downtown Las Vegas district."
Patrick Bosworth, CEO and co-founder at Duetto, added: "The Downtown Grand is one of downtown Las Vegas' most iconic properties, and we're proud to modernize the team's revenue management technology and strategies. We're looking forward to quickly implementing the product into their daily practices and integrating player worth data so that we can help get the right players in the door and make more profitable pricing decisions."
The Downtown Grand is a boutique hotel and casino with 629 newly remodeled hotel rooms and 9 bars and restaurants. In January, owners began construction on an additional 495-room hotel tower.
ABOUT DOWNTOWN GRAND HOTEL & CASINO
Downtown Grand Hotel & Casino is a unique hospitality and entertainment destination right in the heart of revitalized downtown Las Vegas. Located on 3rd Street between Ogden and Stewart, Downtown Grand encompasses an entire urban block of hotel, casino and dining amenities. The property currently features two 18-story and 25-story towers totaling 629 guestrooms and suites, and a third tower is under construction. Downtown Grand's casino offerings include 25,000 square feet of gaming space with nearly 500 of the hottest slot machines, table games and a fully featured sports book powered by William Hill. Restaurants, bars and entertainment options include Freedom Beat, Furnace Bar, Art Bar, Sidebar and the award-winning Las Vegas steakhouse Triple George Grill. Partnering venues include the famous Hogs & Heifers saloon and Pizza Rock, renowned as one of the best pizza restaurants in the city. Downtown Grand features Citrus Grand Pool Deck, a rooftop pool experience with more than 35,000 square feet of entertainment and special event space, an infinity pool, restaurant and bar, semi-private cabanas, a fire pit and a grass seating area.
ABOUT DUETTO
Duetto provides a suite of cloud applications to address hospitality's complexity in distribution and technology, providing solutions that increase organizational efficiency, revenue and profitability. The unique combination of hospitality experience and technology leadership drives Duetto to look for new and innovative solutions to the industry's greatest challenges. Duetto delivers software-as-a-service to hotels and casinos that leverage dynamic data sources and actionable insights into pricing and demand across the enterprise. More than 3,000 hotel and casino properties in more than 60 countries have partnered to use Duetto's applications, which include GameChanger for pricing, ScoreBoard for intelligent reporting and BlockBuster for contracted-business optimization.
For more information, visit http://duettocloud.com.