Hotel Villa Magna is one of the most distinctive and discerning hotels in the Spanish capital of Madrid. Offering 150 rooms, a host of F&B options and a spa, the five-star hotel is a market leader.
We caught up with Carlos de la Barra, Director of Operations, Hotel Villa Magna to find out more about the hotel's unique selling points, the challenges of Madrid's seasonality and managing increased demand as the city prepares to host the European Champions League Final on June 1.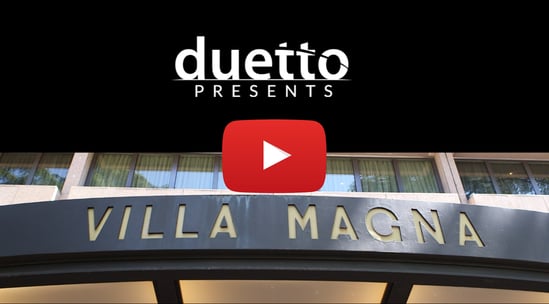 Discover more about operations, sales and revenue at Hotel Villa Magna in our Duetto Presents: H-Hotels video. Watch now.
What would you say is Hotel Villa Magna's unique selling point?
I think it's our people. It's a very repeat clientele where we get to know our guests in a very personal level. I've known some guests that went to school with me and they've been coming here with their grandparents, and now, like me they have kids, so now their kids are coming, so it's a multi-generational hotel.
How did the hotel perform in 2018? And how did the year compare with 2017?
2018 was a record year for us. The Ritz closed in February for renovation, but that being said, we're still very much alone in competition. We're very much looking forward to the Four Seasons in Canalejas opening. We know it will be challenging but we're looking forward to that.
2018 we closed around 9.5% above the year before. We're looking forward to close very similar in occupancy for 2019. The reason for that is the seasonality in Madrid is very well marked. We have a big gap from January to March when its slow. The activity in the city doesn't really kickstart until May onwards. June and July are fantastic months, probably our strongest months, although at the end of July you start seeing that decline because people start going on holiday in the city. August is still very European, in that the city stops.
Madrid hosts the Champions League Cup Final on 1 June. What does that mean for the city?
Football moves the city. We have two amazing football teams, the Atletico and the Real Madrid, and now we have the Champions Final this year, which is fantastic for us.
Every time there's a big match we get people from all over the world. It is great to have such events happening in the city.
We will have a big compression during the Champions League Final. But we know that rates are still not as high as they were last year. We're in a rate parity that is not the norm to the rest of the Europe. The city is relatively inexpensive. Even the tennis or the other football matches won't drive that occupancy up. As a whole city we need that compression to come through.
How do you see tourism and the hotel industry in Madrid developing going forward?
I think it's in a boom. We have the opening of the Four Seasons, and the re-opening of The Ritz under Mandarin Oriental. Those properties will be iconic and will drive rate and occupancy.
And then you're going to get brands like the W coming up, which will bring that lifestyle scene into Madrid, which currently we don't have a lot of. And that will bring a new element of branding into the city.