Launched in 2010, THE FLAG operates a collection of serviced apartments, student accommodation and senior living in Frankfurt, Munich, Zurich, Münster and Attendorn. THE FLAG current operates more than 1,800 units, with expansion in Munich and Frankfurt set to see new properties open in 2020 and Spain in 2021.
We caught up with Florian Kuch, Revenue Manager at THE FLAG, to discuss how he has adopted Duetto for his transient business, the benefits of running on autopilot, and how one particular average Tuesday saw prices jump 10 times their average rate leading to the highest room rates ever seen in the company's history.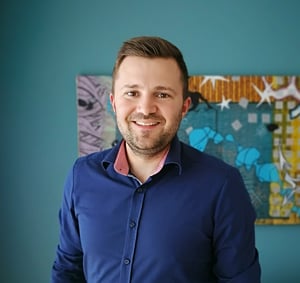 Tell us more about THE FLAG concept?
The initial concept came from the owner. When his children were going to university he started looking for an apartment for them. He noticed that the market didn't really have enough student apartments and nothing useful for this segment; the supply is not high for that specific field. But as an entrepreneur and investor he could see opportunity. THE FLAG started with a 200-unit student apartment complex in Trier.
The company saw good results; almost every apartment sold quickly, and more student complexes were added in other cities in Germany. However, we could see there was a better margin in hospitality, which was when we branched into the aparthotel market. We built our first aparthotel in Zurich, in Switzerland. It is more like a hotel but has the equipment of an apartment. We offer everything you need, nothing that you don't need.
We now also operate serviced apartments in Munich and Frankfurt.
Who is your main market?
It's mainly long stay. We have 75% long stay as a base and the rest is more transient. With 75% of the inventory already sold that gives me much more confidence to play with rates and be more aggressive.
Our average client stays 128 nights – 4 months. Mainly they are here on business projects with other companies, mostly the IT sector for Munich and finance in Frankfurt.
In the beginning, we started with one corporate client. Travel managers speak to each other and our brand spread by word of mouth. We also did Google campaigns and general marketing, as well as classic sales - going to the companies and negotiating contracted rates.
Then we have our mid-stay market - 7-29 nights. We saw a possibility to change to Open Pricing in this segment, and by giving flexibility to Duetto to price we have increased average ADR by €10. It really helped and demand stayed constant.
Finally, we have our transient rooms, staying 1-7 nights.
How is your revenue team set up?
I'm the entire revenue team, covering Munich, Zurich and Frankfurt. I joined in August 2017 and the first thing I did was invest in a booking engine and a GDS. We had good results in the first year, increasing revenue 10% overall. Then it came to a point where it was not possible to handle with just one person. This is when we added Duetto. As we add more properties we may add to the team.
You are now running your properties on autopilot – how did you find the transition from manual to automated pricing?
With Duetto the first four weeks were challenging - you have to keep an eye on the system, what it is suggesting, what you are thinking, and set pricing rules etc - because it is learning from you.
Then, I went to Washington in May for DuettoX. I knew I would be away for five days, so I put all hotels on autopilot.
Going to autopilot felt empowering. I had an eye on what it was doing; but it was doing it on its own. And it turned out really well!
Weekends were always a challenge, because I wouldn't be doing anything. But Duetto is now managing it 24/7.
Before I did revenue for 90 days out; now it's 365 days ahead. It is amazing!
What results have you seen from this?
So far, year on year, we have increased ADR by 5%.
We had one week in Zurich where we saw there was a huge demand and Duetto kept going higher and higher on the rate. Duetto suggested €979 on one specific day – I thought let's try and increase a little further and go to €1100 – we still had pick up! Then we got a cancellation of 10 rooms, and Duetto was saying we can still go to €1309 for this particular Tuesday night. Before Duetto our average rate for a Tuesday was €149!
Before Duetto if I had seen this specific Tuesday I would have gone to €400 maximum. Duetto was giving me the power and confidence to go higher. I was thinking 'If Duetto thinks this can be done then let's try it'. I would have never sold any rooms for over CHF1000 before Duetto.
How has the system freed up your time to be more strategic in your pricing decisions?
It gives me more time to focus on those real big days when you know you will be running full and to really make the most of it. It's the simple things… for example, I may be running a promotion on an OTA and forget to black out those days; now that I have more time its more detailed and more optimised.
What are your expansion plans for THE FLAG?
We will open another 228-unit hotel in Frankfurt in March 2020 – and I will be covering that hotel. Then we have another opening in Munich - 150 rooms. By the middle of next year, we will have two properties in Munich, five in Frankfurt and one in Zurich.
And will you be taking Duetto with you as you grow?
Of course! I am already acting as a Duetto ambassador – I get asked a lot by industry colleagues 'How is Duetto?' and I say it is really amazing.
Open Pricing hooked me from the very beginning. It gives you the flexibility to still run your own strategies, but it is optimised in the way you want it to be.
Back to Library