Norwegian hotel chain Nordic Choice has almost 200 properties in Scandinavia and the Baltics, all under one owner – Petter Stordalen and his company Strawberry Group.
In 2016, Strawberry Group launched eBerry, a separate company with the sole aim of digitalising Nordic Choice. eBerry has a 160-strong team, including 40 developers, working on apps, platforms, websites, distribution, loyalty and much more, all with the aim to streamline operations and improve the guest experience.
Christian Lunden heads up the Future Business unit of eBerry. We caught up with him to find out more about his role and how the company is experimenting with blockchain.
---
Christian Lunden with will be joining us at this year's Revenue Strategy Forum as a panellist on our 'Hype or Hope: Is Blockchain going to change the industry, or much ado about nothing?' session. Register now and join us for RSF on 5 November 2018.
---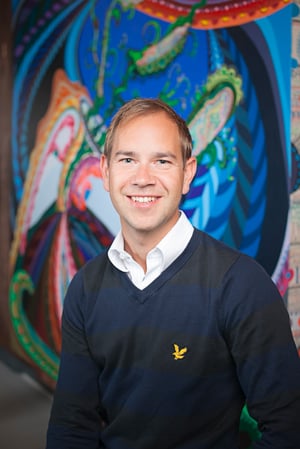 What does your role as Director of Future Business involve?
Future Business is about trying to work out what will be happening in hospitality in a few years' time. We are a small team looking at new technologies, business models and partnerships. We are trying to predict the expectations of guests in the future. We look at other industries and consider how it can relate to hotels. We conduct small tests with external and internal partners, then we test with guests and hotels and if we think it will fly we take it further and roll it out.
What made you decide to trial a blockchain-based travel distribution network?
I saw an opportunity: either we can do it ourselves like TUI Group but I didn't see the benefits for that as it's basically putting a server on the net and you can only use it yourselves. On the other hand, we have start-ups coming to us every week wanting to have access to our data. That was the driver for me. The aim is to give access to travel start-ups or new distribution channels, in order to create even better packaging.
We will never compete with the OTAs in terms of marketing, so the question was could we find another distribution channel to benefit us and other companies. Blockchain can give access to anyone wanting to sell our rooms, no matter if a small start-up or a big corporate. It gathers everything in one place, using on API, so you can connect airlines, hotels, car rental, retail – all on one platform. Imaging the packaging you can do with that?
You started trialling with one hotel - Hobo Hotel in Stockholm. Have you rolled this out further? What are the plans for this?
You always a hope these new technologies will just start working immediately but what I've learnt is it's always a longer run than you imagine. We have been running on a test net internally together with Winding Tree and hopefully in a couple of weeks we will try to put it on real data. If we do that it is actually several months before we thought it would be released.
We are now working with a third company who are distributing all our hotel rooms into different channels. We are looking to do it not just with one partner but with a whole middle layer to make it easier for everyone to access the inventory because they already have access to our hotels and distribution channels. We are testing at Hobo just to see if it works and if we see that we will probably roll it out to more hotels, but it will never be all our inventory in one place.
How has this differed from other distribution channels Nordic Choice are using?
The main difference is that no one owns the platform. There's no commission and no transaction fee apart from the normal blockchain transaction fees for the transaction itself but that's a very low amount. If we see others are selling our rooms on that platform we have the opportunity to pay them a fee for that but it's up to us and them to decide what that will be. It's not like the OTAs who can say what they want and we have to just follow that. If you are selling our rooms on your account we can pay you for that or if the restaurant next door wants to do a package with our rooms we can pay them for that.
For the guest, you will never know this is based on a blockchain - it is like the HTML technology behind a website. You will go to a website offering a package and they have picked the inventory and content from the blockchain platform. It could be Expedia, a small start-up or even a blogger who wants to sell the room. Anyone can give it to their audience. Everyone has the same API. Everything stored on one common platform on blockchain.
What do you see as the benefits of blockchain from a hotel business perspective?
The distribution company distributes the prices our revenue department sets, so it will be the same way of doing it but for a new channel that happens to be the blockchain. Hopefully, we will have lower prices though as the commission is lower.
We are putting 10 rooms into this channel let's see what happens and what we will get from it. More people need to start looking into this as an opportunity, otherwise we will stay alone.
And what are the benefits to the guest?
For the end user prices will be lower because we will have more control of the fees.
Also, we'll be able to offer a totally new booking experience. For example, if you go to a store selling beds, and we use those beds in our hotels, they can have access to our inventory and invite potential customers to test out those beds with a stay at one of our hotels. They could package that and be selling our rooms – that's a totally new channel. It's about making it really easy for guests to make a reservation no matter what channel.
How long do you think it will take blockchain solutions to scale?
Remember back in the 1990s when everyone was asking about the potential of the Internet? When you would sit with your 14.4k dial-up modem waiting for a picture to come through one line at a time? It took time before we could see the business benefits of it. There are many people trying to get blockchain going, but we can't expect to see this being big next year.
RELATED HOTEL REVENUE STRATEGY ARTICLES