With Hard Rock and Nobu Los Cabos expected to open in summer 2019, RCD Hotels seeks a game-changing resort revenue strategy.
Cancun, Mexico; March 26 — All-inclusive resorts require a unique revenue strategy, and RCD Hotels is partnering with Duetto to have better forecasting insights and drive more revenue at their two newest properties – Hard Rock Hotel Los Cabos and Nobu Hotel Los Cabos (pictured).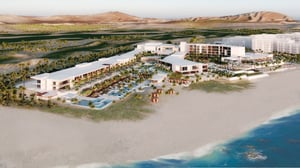 RCD Hotels will initially install Duetto at five total properties, including the iconic Eden Roc Hotel Miami Beach and Nobu Hotel Miami Beach. They will implement Duetto's GameChanger application to simplify their pricing process, ScoreBoard to simplify their reporting process and BlockBuster to simplify their group business contracts.
RCD Hotels tapped Duetto as innovators in the all-inclusive space, noting the deep understanding and expertise the technology provider has in the Caribbean and Mexican resort markets.
Lourdes Ancona Valdes, Corporate Director of Revenue Management at RCD Hotels, says her team was looking to partner with a forward-thinking technology company that would team with them to develop strategies and product features specific to the all-inclusive market.
"We want to work with a company that is thinking outside of the box and investing in its all-inclusive product offerings," she said. "Duetto is ahead of the game in this regard and we expect that together we can push the envelope even further."
Two specific features will strengthen RCD Hotels' all-inclusive revenue strategy: the ability to yield per-person rates and the ability to forecast demand up to five years into the future. While traditional urban hotels have shorter booking windows, all-inclusive properties are often booked further than a year in advance and therefore need better visibility into demand beyond 365 days.
Patrick Bosworth, CEO and co-founder at Duetto, added: "Our team prides itself on understanding the intricacies of all-inclusive resorts, and we're proud to partner with one of the most forward-thinking resort owner-operators out there. We're looking forward to helping RCD Hotels hone its all-inclusive revenue strategy by taking the right bookings at the right time for the right price."
RCD Hotels opened the first all-inclusive Hard Rock property, the Hard Rock Hotel & Casino Punta Cana, and continues to grow its investment throughout the Caribbean and Latin America.
The 639-room Hard Rock Hotel Los Cabos marks Hard Rock's fourth Mexican destination and will cater to the diverse needs of modern travelers, offering both family-friendly and adult-only sections.
The 200-room Nobu Hotel Los Cabos, the first Nobu Hotel in Mexico, will represent a new and differentiated luxury product in the market. The signature Nobu Restaurant and Bar will be located on the beachfront of the Pacific Ocean delivering the famed Nobu experience framed with a remarkable view.
ABOUT RCD HOTELS
RCD Hotels is the brand that brought the first all-inclusive Hard Rock Hotels and Hard Rock golf courses to life. RCD Hotels is expanding its portfolio with properties under the European plan concept and the all-inclusive concept. The company acts as marketing and sales leaders for Hard Rock Hotels in Mexico and the Caribbean, as well as for the iconic Eden Roc and Nobu, both in Miami Beach. Future projects include Nobu Hotel Los Cabos and Hard Rock Hotel Los Cabos, both scheduled to open in 2019. RCD Hotels has established success in luxury hotels, creating a standard of excellence that will become even stronger as the portfolio grows.
ABOUT DUETTO
Duetto provides a suite of cloud applications to address hospitality's complexity in distribution and technology, providing solutions that increase organizational efficiency, revenue and profitability. The unique combination of hospitality experience and technology leadership drives Duetto to look for new and innovative solutions to the industry's greatest challenges. Duetto delivers software-as-a-service to hotels and casinos that leverage dynamic data sources and actionable insights into pricing and demand across the enterprise. More than 3,000 hotel and casino properties in more than 60 countries have partnered to use Duetto's applications, which include GameChanger for pricing, ScoreBoard for intelligent reporting and BlockBuster for contracted-business optimization.
For more information, visit http://duettocloud.com.