The Curtain hotel and members club opened in the up-and-coming London borough of Shoreditch in May 2017. Located in the vibrant, creative hub of the UK's capital, The Curtain offers 120 rooms, a member's club, leisure facilities, event space, and some great F&B outlets, including Red Rooster.
Caroline Lebourg is Revenue Manager at the five-star hotel. We caught up with her to find out more about how she is creating and managing a Revenue Strategy that is as unique as the hotel offering.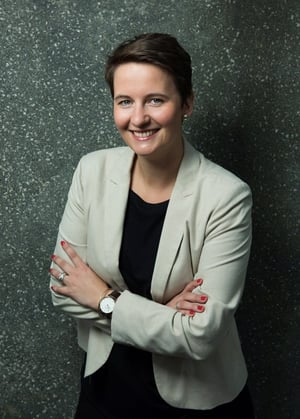 Q: You joined the hotel nine months ago. What's it like working at the property?
A: It's quite a different because sales, revenue, reservations and marketing are all in the same department.
At the beginning, I felt like 'We don't have the same goals.' But actually, it's amazing. I am now part of the sales and marketing meeting; every week we all meet together so I understand better their strategy, but they also understand better my strategy. We have a really strong team and it's really good for the hotel.
Having each of us understand what the other is doing has made decisions much better and much easier. And yes, sometimes I have to give a complimentary night when I don't want to, but because I understand the sales perspective in the long-term, and then sometimes I say, "No," and that's it, and they understand why.
I think it's working really well, and I would advise a lot of hotels to do the same.
Q: This co-operation must make it easier to work together on group and contracted business too?
A: I actually love quoting for groups! I have a really good relationship with the person who is in charge of groups. He comes with an idea and he will explain to me what group, what date, etc. And then I ask them to quote, because I think it's very important because they know their client. I don't know the client. I just know my numbers. So I prefer he comes up with his price because sometimes it will be higher than mine because he knows his client's potential. That has brought a lot of revenue to the hotel.
We are quoting at the moment for a group in 2020. It's so far away, but there's a whole reflection and study to this. It's really interesting.
Q: What challenges are you seeing in implementing your Revenue Strategy and how are you overcoming these?
A: When I arrived we were having issues with rate parity, and for me that was really a big thing.
Having everyone paying the same makes guests more likely to book direct, because they feel like they have a better connection and, even one or two pounds would make the difference, and it will go to the OTA. So parity is one of the big thing and the other is working on direct business.
We are working with Triptease to help us attract more people to our websites so that we are not relying too heavily on those channels with a high commission.
It's about balancing all those elements and finding the best, and most suitable, for the results of the hotel.
Q: What else are you doing with e-commerce and marketing to remain competitive?
A: I love being avant-garde, so I always try to be part of trials. We are doing online chat. We're doing special campaigns targeting different countries. We're also trying to find new tools that will help us sell better and sell more precisely to some markets.
Q: There's a lot of uncertainty in the UK market right now, what with Brexit, etc. How well do you think The Curtain is prepared for a downturn and how could you win in this situation?
A: It's something in today's society that I think we really need to be ready for. Brexit, terrorist attacks, etc., we've seen how it's impacted Paris. London, by chance, we were not as impacted, but it's not easy. You always try to be as reactive as possible.
I yield for the whole year at least once a week. Twice a week, I'll look at the next six months, and then closer to date for the rest of the time. But I always try to see the future – as a revenue manager that's kind of our job!