In my six years as co-founder of Duetto, we've grown from a two-man operation working at a single desk to more than 100 people in five offices across the globe. While I haven't hired everyone at Duetto, I was highly involved in many, and I've led the development of a culture in which all of our new hires must fit.
That means not only am I passionate about Revenue Strategy and hotel technology, but I've learned a great deal about human resources. So put that all together and you'll better understand why the following job post made my skin crawl: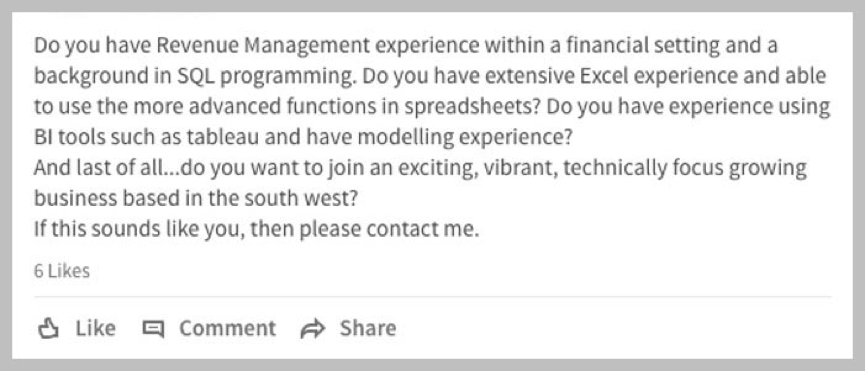 A little background: This message was written by a job recruiter and posted to LinkedIn. When I scrolled across it about a month ago, I saved a screenshot until I had time to write about it.
The job description above is exactly what's wrong with the revenue management profession today. It's a post that describes what the revenue management role was 10 years ago, and comes from a hotel group that most likely doesn't have an RMS, has an inadequate system, or purchased a system and doesn't know how to use it.
Before I get into what hoteliers should be looking for in their RM candidates, I want to point out this recruiter is looking for a very rare talent. Looking for someone with experience in revenue management, SQL, Excel, modeling and BI tools is essentially asking for one person that can replace an entire system of data collection and analysis. This company is not looking for a revenue manager, it's looking for a revenue management system.
If you hire a revenue manager for his or her ability to build a patchwork system, like what is advertised above, you're going to most likely end up with an unsecure structure that no one knows how to optimize except for the person who built it. You will have become a rudimentary development shop, and it will be incredibly hard to scale to multiple hotels.
How do I know? Because that's the exact job I did for both Caesars and Wynn early in my career. Until I realized it wasn't working.
At both Caesars and Wynn, I perfected all of those tasks in my own little bubble, and we were making a little more money, but we all knew there was untapped revenue potential if we were able to do things differently. If we just had the right strategy in place.
And that's how Duetto was born. Once I had observed enough departments working independently rather than toward a collective goal, I knew it would require an outside perspective to make positive change. Yielding rates matters, but developing a strategy where marketing, sales and operations work together is the only path to increased profitability.
So I left Wynn and co-founded Duetto with a philosophy called Revenue Strategy, and before we even built the pricing algorithm, we were helping hotels by aligning all their departments toward the same revenue goals.
Qualities of a Good Hotel Revenue Manager
Instead of hiring someone to build you a system of disparate parts, look for someone with good communication skills who can understand processes across multiple departments and can get leaders to work in sync. A "geek who can speak," says Sherry Kimes, one of my professors and mentors at Cornell's School of Hotel Administration.
I don't need my revenue manager to have any data collection, parsing or scraping experience; they don't need to have SQL or Excel knowledge because those are backward and time-consuming ways to collect and analyze data today.
While a good understanding of statistics is needed, it's just as critical they understand hotel operations and marketing, because undoubtedly they're going to be thrown into both.
Hotel revenue managers need to know how to collaborate across departments, understand the various systems they are using and be able to override or inform the system based on their own knowledge.
Most importantly, though, the person needs to be able to develop and install a strategy. This means you need an influencer, someone who can formulate a strategy and then sell that strategy to all the other stakeholders and get them to rally around you. These attributes are significantly more important than some who knows how to query a database.
RELATED HOTEL REVENUE STRATEGY ARTICLES