It wasn't all that long ago when Mohegan Sun Casino & Resort in Uncasville, Conn., enjoyed the benefits of being one of the only major gaming destinations in the Northeast, with the nearby Foxwoods Resort Casino its lone key competitor. Mohegan's adjoining 10,000-seat arena provided a further boost, helping the casino resort expand its appeal beyond just the core gaming customer.
But now market dynamics are changing, with multiple competing casinos within a two-hour drive of Mohegan Sun. Every potential edge counts, so Mohegan's marketing and revenue management teams are taking an increasingly strategic, data-driven approach, working to maximize each channel, room type and customer.
A few months after implementing Duetto, Mohegan is already seeing higher ADRs, while its sales, marketing and revenue management teams are getting the business-critical reporting and information they need faster than ever.
To learn more about Mohegan Sun's latest data endeavors, we recently talked with Jesse Sturges, the casino resort's director of strategic marketing. An eight-year Mohegan Sun veteran, Sturges says it's a new era for Mohegan's management, fueled by the use of smart, time-saving tools and a focus on the metrics that matter: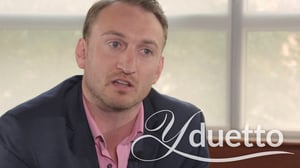 Q: How do you leverage reporting, and how has that been changing?
A: Reporting's always going to be big for what we do. Now, with the [ScoreBoard] system in place, we have the time to really focus on finding some really diverse anomalies within the data or the customer, and find some key relationships. Now we have a quick, easy way to get reports out of the system, so I don't have to be at my desk, going through our reporting tools. I can use my phone to look, whether it's arrivals or tower occupancy. It's been big for the team to be able to say, "Now this is easy reporting."
Q: What kinds of data are you looking at? What are some of your most important metrics?
A: We're looking more into conversions. What's happening on our website? Why is our conversion rate different now than what it was before? If we're having more people book through the OTAs, maybe we'll look at the conversions on our website, because we have that information. We'll look at meta-search. A lot of what we focus on, historically, is what happens in our database and what the customer's doing as far as revenue goes, but we're not looking at the strategic decision and what can we do to get more.
Q: What analysis are you doing beyond the traditional reports?
A: My favorite company in the world is Amazon. What do they do? They make it easy to buy something. So, pace is still very important; however, for me to try to drive more revenue, find new avenues and figure out what the team should focus on, right now I'm looking a lot at channel management, conversion rates, meta-search data and working with our advertising team on where they're advertising and what they're advertising.
Q: As you dive deeper into your data, what are you hoping to learn?
A: We're trying to figure out during the booking process—whether it's through the call center, or online, or through OTAs, or our loyalty online booking application—how do we make it so you can easily filter and make it a quicker, better conversion process? That's where we go back to tracking conversion data. If I give you rooms in this type of list format, what's that conversion look like? If I give them to you in this other format, with these filters, what's that look like? The upsell part is very big for us; I don't want to make it hard to get that transaction completed for you. I don't want to offer you an upsell until after you've completed your booking. We've noticed that conversion rates go down when you start bugging people with upsells when they just want to confirm a room. So once you've confirmed it, then let's talk about what that upsell option is for you.
Q: Critical to casinos specifically, how do you make sure you're selling to your most profitable customers?
A: It's really about accurate forecasting. There's always gonna be anomalies. There's always gonna be situations that things don't fit the normal curve. But if you can forecast for that, it doesn't become an issue. You always want your most profitable, your most loyal, your best guest to have an option. We want to get to our best occupancy, our best revenue. But, let's make sure that operationally we have the staffing and other requirements we need to get rooms flipped or accommodate somebody. We don't ever want to turn down certain guests, but we also don't want to go down with rooms, just because we think something might happen.
Q: How has technology helped you automate and 'managing by exception?'
A: Extremely important. We've been live with Duetto for two months, and one of the big advantages that we're excited for is the room-type pricing and automation. Prior to this, we had different room-type pricings, but it was very manual. Now it's automatic, and we're already seeing a little higher ADR. I was making changes more often, but now we can let the system do it. We were relying on somebody to manually catch days that are compressed or days where there's concern on selling out, or selling out too quickly; we had to manually catch it. Now we have all that time back through working with the system. That's what's allowing us now to focus instead on our conversions, marketing strategy and how we're talking to guests.