One of the challenges casino hotels face is making the right decision on which guests to put in their hotels during periods of high demand. Determining the right segment mix (i.e. transient, group, casino) to optimize profitability and executing strategies to support that goal directly impacts the bottom line. For example, a suboptimal strategy based on outdated data or the poor execution of a good strategy can result in a hotel selling out too far in advance and not having rooms available for its highest-value guests, many of whom book at the last minute. Turning them away not only results in a loss of revenue, but can also result in negative guest sentiment.
Many casino hotels have long struggled with finding the right balance between comp and cash guests (i.e. they are either over-comping or under-comping). With limited insight and manual processes, some casino hotels often fill up with lower-value guests or go down with empty rooms on peak nights.
Duetto's Find My Rate (FMR) app, which is part of GameChanger Casino, addresses these challenges by providing real-time access to casino hosts, call center representatives, and front desk agents to quote dynamic loyalty rates to guests. The use of FMR ensures a consistent (and correct) response to guests' inquiries about room rates. It also provides users with the opportunity to upsell guests to higher-priced room categories (e.g. suites), thereby increasing hotel cash revenues.
Dynamically Yield Loyalty Rates
One of the benefits of using GameChanger Casino with FMR is not having to tell a potential guest "no" anymore. Instead of a binary comp/no comp decision, guests are always offered a loyalty rate commensurate with their value and demand for the hotel. Also, the adoption of FMR by casino hosts means casino hotels can reduce their reliance on casino blocks which contributes to last-minute reverse yielding and empty rooms.
Hear from Christin Medina from Chumash Casino Resort on how FMR has positively impacted their revenue management here.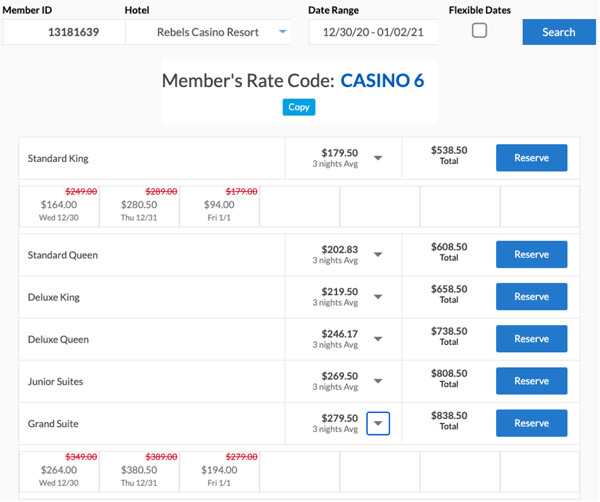 When properly aligned with marketing, GameChanger Casino with FMR helps casino hotels move away from static offers, such as "two free nights for the month of January", and towards dynamic offers like "call for your best rate". Guests quickly learn that they don't need to wait for the monthly mailer to arrive and can instead call at any time and be quoted a rate based on their current value (not a value 2-3 months old when the mailer would have been created).
Duetto customers who have adopted dynamic loyalty rates have reported increases in hotel guests' contribution to theoretical gross gaming revenue and increased visitation by higher-value segments. One tribal casino hotel reported a 36% YoY increase in occupied rooms and a 27% YoY increase in theoretical contribution by their top tier players.
Manage Comp Abuse
Another challenge for casino hotels is comp abuse, when a player stays too many nights in a given time period. Enforcement of comp rules is typically a manual process, making it ripe for exploitation. Comp restrictions may now be set up in GameChanger Casino and enforced via FMR. This feature improves efficiency, reduces risk, and mitigates revenue leakage.
FMR is powered by the Duetto Rate Engine (DRE). DRE provides API access to the Duetto platform for availability, rates, and inventory information. As such, it provides a foundation for the digital transformation of the booking process for casino guests. Long handled by costly call centers which get swamped when the monthly mailer hits, the time has come to move this process online, whether it's via player portals, booking engines, mobile apps, or kiosks. From the guests' perspective, the self-service aspect of the experience can and should be seamlessly integrated into their customer journey.
With the notable exception of Las Vegas, which has suffered a precipitous loss of convention business and air traffic, casino hotels have fared better than most during the current pandemic. This, combined with occupancy restrictions mandated by state and local governments, has resulted in high demand, especially over peak periods like weekends and holidays. A powerful and easy-to-use pricing and analytics application like GameChanger Casino with FMR takes the guesswork out of comp decisions and helps casino resorts optimize demand for profitability.
Back to Library