Rebecca Kwan, the first chairlady of the Hong Kong Hotels Association, has big plans amidst big challenges. But if anyone can take on this task, it would be Kwan. A veteran in the industry, Kwan was also given new responsibilities at Dorsett Hospitality where she was already general manager of Lan Kwai Fong Hotel @ Kau U Fong. She is now also head of operations and will oversee UK sales and hotel revenue related matters.
In an interview with Duetto, Kwan shares numbers and data points, but also her own insights about how Hong Kong is going to face up to challenges confronting the city and how, in her new role as chairperson of the hotels association, she intends to make a difference.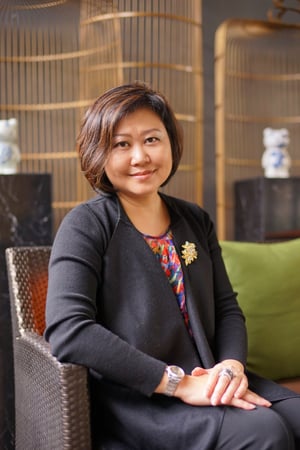 Q: Hong Kong reported healthy growth in tourism numbers last year with a solid rebound in its largest source market (mainland China). How are hotels in Hong Kong expecting to finish 2018?
A: After a couple of years decline due to negative sentiments of mainland visitors, traffic started to bounce back in the second half of 2017 with positive growth in both visitor arrivals and overall hotel industry performance. According to HKTB figures, 2017 total arrivals grew by 3.2% YOY to 58.47 million while the overnight visitors increased by 5%.
Hotel wise, city-wide room occupancy of our member hotels, grew by 2.26 percentage point over 2016 to 90.75%, average room rates were up 3.4% to HK$1,220 whereas average yield increased by 6.03% to HK$1,107. The growth momentum has continued strongly in H12018, with an average room occupancy rate of 91.55% vs 88.97% last year, up 2.58 percentage points. Both average room rates and average yield recorded double digit growth. The industry performance is promising for the second half of this year. HKTB projects more than 60 million tourists to visit Hong Kong this year, making a 3.6% lift year-on-year.
With the commissioning of major infra structures such as high speed rail, Hong Kong-Zhuhai-Macao Bridge, Xiqu at West Kowloon Cultural Centre etc., we are confident the tourism pie will grow bigger which is good for hotels and the tourism industry at large.
Q: There is an interest and emphasis by Hong Kong Tourism Board to attract more high-spending visitors, going after the MICE and cruise segments. How well placed is the hotel industry in Hong Kong to manage this?
A: As a result of growing aviation ties between mainland China and various regions, more business visitors who previously might have made a transit stop in Hong Kong, are instead opting for direct flights to the Mainland. This has had a negative impact on Hong Kong's overnight business arrivals. In 2017, overnight business arrivals amounted to 3.96 million, a decrease of 2.3% YOY.
More MICE event organisers chose Hong Kong to host their events in the past years, resulting in a relatively stable performance for overnight MICE arrivals with an increase of 1.9% in 2017. MICE segment is a key focus in driving overnight arrivals. HKTB will continue to bring in large events by offering bidding funds, targeting the Mainland and global professional associations and corporation, from fields such as medical, high-tech, insurance and direct-sales.
Another strategically important segment of the industry is the cruise market. Nevertheless, we are not the only destination in the region eyeing its potential. We are surrounded by competing cruise ports for ship calls as well as passengers. Nansha, Shekou, Xiamen and Shanghai, as well as other destinations in the region have put vast resources and efforts into securing footholds in the cruise market. Therefore, more needs to be done to protect our share of the pie.
Q: What are some key challenges hotels in Hong Kong are likely to face (or are facing) in these next few years?
A: With 20,000 new hotel rooms to be opened in the next five years, the main challenge facing us is the lack of trained manpower and therefore, we are likely to face the acute staff shortage. Naturally, the frontline and junior positions suffer the most so the use of SMART technology is could be considered.
The manpower issue remains a controversial one, but there appears no immediate solution because importation of labour is still unwelcomed and a non-starter for local trade unions. A SMART initiative is perhaps one possible solution.
Meanwhile, OTAs continue to eat up hotel revenue as their volume of hotel bookings and market share grow. This indeed affects the overall hotel profit performance. Airbnb is also growing strong in the region – the Government must address enforcement before things deteriorate and become insoluble.
Hotel licensing is always a key issue and the government plays a pivotal role to enact the Hotel and Guesthouse Accommodation Ordinance by penalising those breaking the laws as well as to expedite the process of the (Amendment Bill) 2018.
Q: As technology quickens its pace of evolution within the hotel industry, in which areas of hotel operations (back-end, front-end) do you see most impact, most quickly?
A: These days, innovation and technology are the priority and the competitive edge of any major corporations or commercial operators for all industries. As mentioned before, the SMART solutions or applications is the possible answer for the continuous advancement of the hotel industry. It is absolutely important to apply such new technology to all fronts and that will be the key to future success of the hotel industry.
Q: As the new head of the hotel association, what key themes will be driving your leadership and two-year agenda?
A: First, greater transparency and participation of the members of the executive committee to drive the Association forward for the betterment of the hotel industry.
As the first Chairlady, I would like to inspire more female hotel general managers to take up roles in the executive committee or sub-committees.
I also want to uplift the industry profile by representing the collective view of the industry on all matters affecting hotel operations and perform an active role in proposed legislation around new Government policies and measures.
Back to Library