Elevate your revenue
and profitability
with Duetto

Advance
Dynamic optimization powered
by real-time market data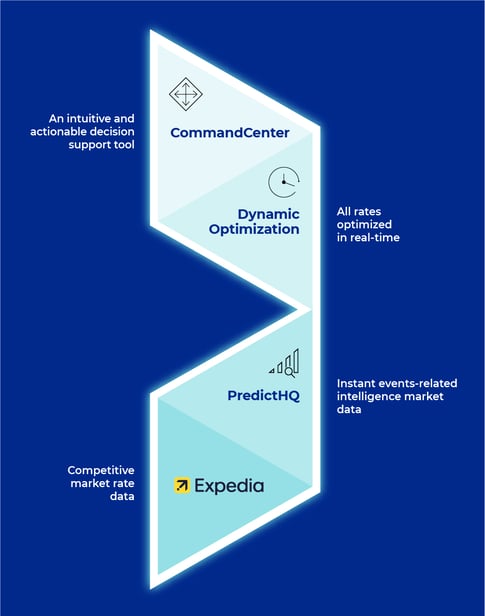 No video selected
Select a video type in the sidebar.
Made possible by world-class data integrations, Duetto Advance combines market and event data with real-time streaming analytics for continuous optimization to maximize profitability.

Our first-to-market integration with Expedia provides real-time, competitive rate and occupancy intelligence direct from the primary source. Our integration with PredictHQ gives hotels a snapshot of how local market events impact demand.
Fully informed revenue management
Understand the market signals impacting local demand
Price rooms in real-time, with more data than any other RMS, powered by our advanced analytics.
Integrated, comprehensive visualizations
Fully customizable dashboard gives you access to the information and data most important to your strategy.
Be the first to know when local events drive increases in your market demand with PredictHQ.
Duetto's next-gen analytics produces tailored rate recommendations for hotels up to five years into the future.
Portfolio planning and profit
Set strategy and optimize revenue by property, brand, or entire portfolio with our multi-property management portal.
Our world-class partnerships fuel your success
Working with 100+ world-class integration partners, including 30+ PMS providers, we provide hotel revenue teams with actionable data and seamless connections they can trust.
Explore integrations
Duetto platform features that optimize your revenue operations
Duetto Advance works with our pricing solution, GameChanger; our business intelligence application, ScoreBoard; and group business solution, BlockBuster, to drive total hotel profitability.
Optimize rates in real-time
Dynamic optimization publishes rates in real time by identifying sudden shifts in demand.
Accurately measure traveler appetite
Duetto also evaluates competitor data, website regrets and denials, reviews, and comments.
Revenue experts offer guidance
Duetto's Customer Success team are experienced revenue managers who help you succeed.
Always on, always optimized
Smart notifications ensure you are always aware of real-time market changes.
"As a leading provider of powerful hospitality applications, Duetto not only recognizes challenges within our industry but also provides solutions that assist in simplifying the complexities of distribution while maximizing overall profitability."

David Etmenan, Chief Executive Officer & Owner, Novum Hospitality