New report details how top hospitality professionals are using analytics to make critical strategic decisions and maximize performance.
San Francisco, August 15, 2019 - Duetto, hospitality's innovative provider of cloud-based revenue strategy applications, has published a special report highlighting how hoteliers are slicing and dicing data in ways that are more insightful and can help move the needle on profitability.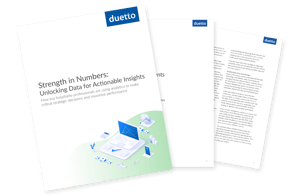 The report begins by showcasing how hotel revenue teams are synthesizing massive amounts of data with the assist of cutting-edge tech to analyze results in real time and make critical strategic decisions that maximize performance.
For example, Duetto research on a set of San Francisco users showed that 80% of the hotels' revenue came on about 30% of the year, on highly compressed days and nights. What the analysis highlights is, particularly when revenue managers are thinking strategically about maximizing profitability, it's extremely critical to understand there are a handful of days where hotels have the most opportunity to organize their teams and drive a strategy to capitalize.
Hoteliers in the report say their success has been contingent on aggregating and analyzing clean, strong data. It works only when the hotels embrace technology and understand what measurements are right for each individual hotel. Success is also dependent on good forecasting and interdepartmental collaboration.
"While some hoteliers tend to be nervous about giving too much exposure to data to people that may not fully understand it, good revenue teams don't limit access to analytics," one hotelier says.
Once hotels have a clearer view of the best data and a better strategy to communicate and contextualize it, strategies to optimize revenue begin to fall in place.
Download the complimentary report here.
ABOUT DUETTO
Duetto provides a suite of cloud applications to simplify hospitality revenue decisions and allow hoteliers to work smarter, increasing organizational efficiency, revenue and profitability. The unique combination of hospitality experience and technology leadership drives Duetto to look for innovative solutions to industry challenges. The SaaS platform allows hotels and casinos to leverage dynamic data sources and actionable insights into pricing and demand across the enterprise. More than 3,000 hotel and casino properties in more than 60 countries have partnered to use Duetto's applications, which include GameChanger for pricing, ScoreBoard for intelligent reporting and BlockBuster for contracted-business optimization.
For more information, visit http://duettocloud.com