Canada's fastest-growing, privately owned hospitality company looks to implement a more modern tech stack that will enable the hotel group to deploy more innovative strategies.
San Francisco, September 17, 2019—Sandman Hotel Group, Canada's fastest growing hospitality company, has officially partnered with Duetto, a hospitality revenue platform with a best-in-class pricing application, to maximize profitability across its entire portfolio of hotels, resorts, and inns.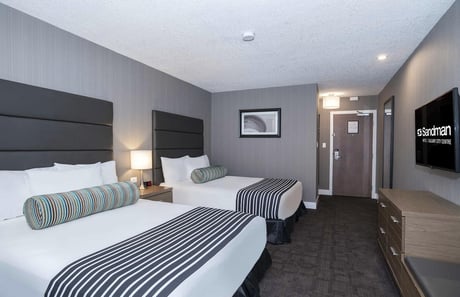 Sandman, which operates The Sutton Place Hotels, Sandman Signature Hotels & Resorts, and Sandman Hotels, Inns & Suites, is implementing the technology firm's pricing application, GameChanger; its solution for intelligent reporting, ScoreBoard; and its groups business application, BlockBuster.
With more than 50 Hotels, Resorts, Inns, and Suites, from British Columbia to Newfoundland and Labrador, the US, and the UK, and with several properties under development, Sandman is Canada's fastest-growing, privately-owned hospitality company.
Duetto's revenue strategy platform brings together core technologies and data to make them accessible through multi-tenant cloud architecture, powering a suite of applications delivering a holistic revenue strategy that increases organizational efficiency, revenue and profitability.
Sandman will use ScoreBoard to quickly and efficiently produce and share multi-property reports such as financial forecasts and budgets, leading to more accurate reporting and streamlined operations.
With GameChanger, the company plans to yield rates independently by property and stay date, room type, booking channel and customer segment, driving increased revenue, profit and efficiency. Using BlockBuster will help Sandman bring together sales and revenue management to effectively yield group bookings and optimize contracted business.
"We were looking for a modern application to enable innovative strategies throughout the organization," says Michael McNames, Director of Revenue at Sandman Hotel Group. "We are confident in Duetto's best-in-class technology, but perhaps more importantly, it was a cultural fit for an agile company proving to be cutting-edge market leaders."
"Sandman Hotel Group is an innovative industry leader eager to empower their teams with the right resources," says Patrick Bosworth, CEO and co-founder at Duetto. "We're excited to help them along a journey of making more informed decisions to maximize opportunities."
In addition to the newly opened Sandman Signature Plano – Frisco Hotel, US (Sandman's first hotel in Texas and the United States); Sandman Signature Aberdeen Hotel, UK (Sandman's first hotel in Scotland and third in the UK); Sandman Signature St. John's Hotel, NL; Sandman Signature Calgary Airport Hotel, AB; and Sandman Signature Ottawa Airport Hotel, ON, Sandman has also announced new Canadian hotels in Sherwood Park, AB; Saskatoon, SK; and Winnipeg, MB.
ABOUT SANDMAN HOTEL GROUP
Founded in 1967, Sandman Hotel Group operates as a network of sister hotel and restaurant companies under Northland Properties Corporation. Based in Vancouver, the company currently has 57 properties from British Columbia to Newfoundland and Labrador, the United States, and the United Kingdom. For more information or to make a reservation, call 1-800-SANDMAN or visit www.sandmanhotels.com.
ABOUT DUETTO
Duetto empowers hospitality revenue professionals to be more efficient and strategic by automating pricing and unlocking critical data insights for more impactful revenue decisions.The unique combination of hospitality experience and technology leadership drives Duetto to look for innovative solutions to industry challenges. The SaaS platform allows hotels and casinos to leverage dynamic data sources and actionable insights into pricing and demand across the enterprise. More than 3,500 hotel and casino properties in more than 60 countries have partnered to use Duetto's applications, which include GameChanger for pricing, ScoreBoard for intelligent reporting, and BlockBuster for contracted-business optimization.
For more information, visit http://duettocloud.com.