Industry sales & marketing association invites revenue technology sales leader to board to help shape recovery strategies for the hotel industry in Europe
San Francisco, JUNE 24, 2021 — The Hospitality Sales and Marketing Association International (HSMAI) has appointed Duetto's VP Sales EMEA, Michael Schäffner, to its Europe Region Board of Directors.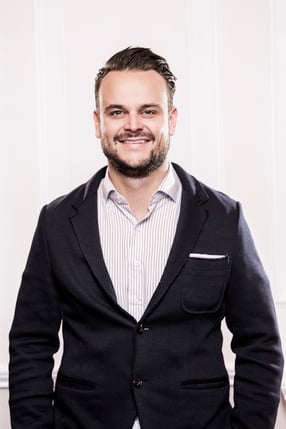 Led by President and CEO of HSMAI Region Europe, Ingunn Hofseth, and the newly elected Chair Michael Nowlis - an independent consultant and a former Associate Dean at Cornell Johnson Graduate School of Management, the current HSMAI Europe Region Board of Directors hopes to shape the strategic direction of the industry in the post-pandemic era as the hospitality industry embarks on its business recovery.
At least 60% of board positions are made up of those working directly in the hospitality industry in the region, with the remaining members made up of key industry experts and technology providers, such as Duetto.
"I am truly excited to join the HSMAI Europe board. We have a great mix of professionals and expertise on the board and I look forward to working together to support the industry in developing the right strategies to enter the 'new world'," said Michael Schäffner, VP of Sales, EMEA, Duetto. "This is a very significant time for our industry. We are coming out of the most challenging time our industry has ever seen. Our focus now needs to be on the future. I am convinced that long-term this crisis will have a positive impact on our industry. We must find a balanced way to use the power of digitalization to drive efficiencies and improve the customer experience."
The Board of Directors of HSMAI Region Europe is responsible for guiding and providing input for the association's strategic direction. HSMAI Region Europe has multiple units and leadership groups, including expert communities, Advisory Boards and Councils, and special task forces.
ABOUT DUETTO
Duetto delivers a suite of cloud applications to simplify hospitality revenue decisions and allow hoteliers to work smarter, increasing organizational efficiency, revenue, and profitability. The unique combination of hospitality experience and technology leadership drives Duetto to look for innovative solutions to industry challenges. The software as a service platform allows hotels and casino resorts to leverage real-time dynamic data sources and actionable insights into pricing and demand across the enterprise. More than 4,000 hotel and casino resort properties in more than 60 countries have partnered to use Duetto's applications, which include GameChanger for pricing, ScoreBoard for intelligent reporting, and BlockBuster for contracted-business optimization. Duetto is backed by investors Warburg Pincus, Icon Ventures, Accel Partners, Battery Ventures, and Spectrum 28. For more information, please visit https://www.duettocloud.com/.
Back to Press Releases