June Ng is the Director of Revenue for three of Hong Kong's landmark hotels: the Marco Polo Hongkong Hotel, Gateway Hotel and Prince Hotel. All three properties command prime locations close to the commercial and entertainment district of Kowloon and are linked to Harbour City – Hong Kong's largest shopping complex. In total, June manages an inventory of 1,459 rooms in the city.
The Marco Polo Hongkong Hotel, Gateway Hotel and Prince Hotel all belong to the Wharf Hotels portfolio. Wharf Hotels runs a fast-expanding hotel network in Asia through its contemporary chic Niccolo Hotels brand and its legacy Marco Polo Hotels brand. Currently, the group manages 17 hotels in China, Hong Kong and the Philippines, with more under development or in pipeline for the next few years.
We caught up with June to find out more about the challenges and opportunities of managing revenue across three hotels in the dynamic market of Hong Kong.
---
Discover how Marco Polo Hongkong Hotel, Gateway Hotel and Prince Hotel cluster revitalised their revenue strategy to boost ADR and RGI in our Case Study "A Revitalized Revenue Strategy at Hong Kong's Wharf Hotels". Read now.
---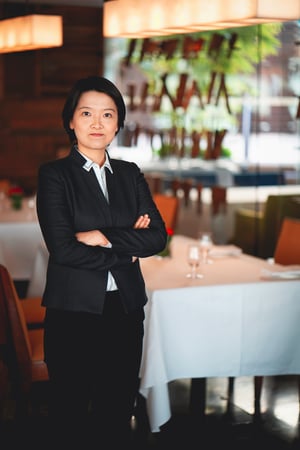 Q: In total, all three hotels have more than 1,400 rooms – that's a lot of inventory to manage. How do you do it?
A: We have 1,459 rooms – it is not an easy task, honestly quite challenging. They are all next to each other so it is a complex. The challenge is to identify their demand separately. Each of them could be a competitor of the other two, so it is quite difficult to manage but luckily our location is good. We are in a prime area of the city and here the rate is very dynamic.
We would like to identify each hotel's own positioning. For example, Gateway is a lifestyle hotel, and we want to attract a younger, more energetic crowd. Prince Hotel is next to the ferry terminal, so we target the leisure guests more than business. And Marco Polo Hongkong Hotel is one of the most well-known hotels in Hong Kong and the first hotel of the Wharf Hotels group to open in Hong Kong.
Q: Hong Kong's tourist arrivals rose to a record high of 65.1 million in 2018, up 11.4% on 2017. How has that increased demand impacted room rates across the city? Has competition intensified?
A: Hong Kong hotels have shown an obvious growth in both occupancy and ADR in 2018 vs 2017. But the market is softening gradually in Q1 2019. How to maintain the market share is the one of the key objectives in 2019. Competitors have adjusted down the rate to increase market share. The competition is keen.
Q: The supply of hotel beds in Hong Kong will also grow by 3% annually in the next three years. How are you planning to tackle the new competition to the market?
A: As mentioned, we forecast the market demand will become softer in 2019, and one of the reasons is due to the increase of hotel supply. We are an integral part of Harbour City, the largest shopping complex in Hong Kong, therefore we will work with them closely with joint promotions to attract more leisure customers from around the world. Besides, we will focus on providing exceptional experiences to our guests by exploring new technology.
Q: How do you manage rates in such a competitive market?
A; We monitor rates closely. The room rate may go up or down a few times within a day. Duetto helps me to adjust the rate based on data effectively. It recommends the rates because it can analyse the situation quickly. Often we get bookings come in overnight that are then being input to the system in the morning by reservations. Duetto will immediately advise the relevant price. We chose Duetto to fully utilize a dynamic pricing strategy.
Q: Tell us about the transition period from a BAR pricing structure to Open Pricing?
A: The dynamic rate concept is easy and straightforward in order to apply the right pricing at the right time, but it takes time to deliver the concept to the concerned departments. Therefore, we conducted training internally.
The industry has used fixed BAR levels for the past 10 to 15 years. We decided to change to Duetto last year because we thought it is time to change for the future. We have to show our teams the benefits of using flexible pricing during high and low periods.
Q: You highlight your ReviewPro scores on each hotel web page. How important are customer reviews these days in attracting new business?
A: Guest's comments are very important. ReviewPro helps us to understand how we are doing from a customers' point of view. Through them, we can give the guest a personal touch. For example, with some OTA reviews you can give an immediate response. Some ask guests to review as soon as they have checked in. That's very important for us; if you check in and you feel disappointed or not satisfied we can react immediately. Once you check out, whether you have a good or bad review, then it's too late for us to follow up. Also, guests will check the reviews before they book. Therefore, reviews are very important.