March is Women's History Month and here at Duetto we are celebrating some of the great female talent we are lucky to have.
Duetto is very much an equal opportunities workplace, with a 50/50 split of male/female staff in all strata of the company. We see talent, not gender, and believe that through empowering our team we will continue to lead the industry with our cutting-edge platform-based hospitality technology.
Here, we talk to Sarah McCay Tams, Director of Content, EMEA, about her love of all things travel, how Marie Curie and Kate Adie inspire her, and why you never meet a dull hotelier.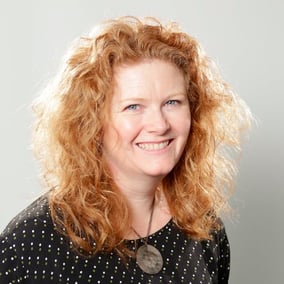 Who was the most influential female in your life?
Obviously, my mum. She was one of the most stubborn and focused females I ever met! She sadly left my life too early, but I carry everything I learnt from her in my daily life.
Second is a UK journalist named Kate Adie. She was a famous TV news war correspondent during the late 1980s and 1990s. I was in total awe of her reporting from war torn countries, always so composed, so articulate on camera. She made me want to be a journalist. And many years later, while working as a magazine editor in Dubai, I met her and told her how she had inspired me.
Which woman from history most resonates with you?
Marie Curie, the physicist and chemist who conducted pioneering research on radioactivity. She was a brilliant woman working in a very male dominated sphere and remains the only person (female or male) to hold two Nobel prizes for science. Putting feminism aside, her work has had an amazing impact on so many lives.
I recently came across one of her quotes, which resonates very loudly right now: "Nothing in life is to be feared, it is only to be understood. Now is the time to understand more, so that we may fear less."
What did you want to be when you were a girl? And how did that change as you grew up?
I always wanted to travel and from a very early age I wanted to be an air hostess. I was fascinated with flying and thought the job sounded so glamourous.
But I also wanted to write. I was fascinated by the Bronte Sisters, and how they had broken through literary barriers publishing under gender-obscure pseudonyms.
Later, those two things morphed into being a travel journalist, which I was fortunate to do for a number of years. I had so many great adventures and met so many interesting people. Hoteliers remain my favourite interview – you never meet a dull hotelier!
What do you most love about your current role at Duetto?
As Director of Content for EMEA I get to spend time talking to our amazing clients and hearing their fabulous success stories. Even now, when things are so challenging, the hotel industry continues to wow me. The humanity of hotels servicing doctors and nurses is overwhelming.
And to work for Duetto is incredibly inspiring. We have such an amazing team of talent, from our developers to our customer success people. We are truly diverse.
How did you come to join Duetto?
I was working as a freelance journalist when I got commissioned to write a whitepaper on Predictive Analytics in Hospitality by EyeforTravel. It was a report sponsored by Duetto. I loved the company's philosophy and they loved my writing. Not long after, I was blogging for them on a regular basis.
Fast forward a couple of years and Duetto asked me on board full-time as Director of Content. I jumped at the chance and haven't looked back. I've been part of the Duetto family for four and a half years now.
What one piece of advice would you give to girls today considering their career options?
Do what you love. Find a job that truly inspires you, challenges you and that you wake up happy to do. This might take some finding, but you often spend more time at work than you do with your family, so it's important to be happy.