With all that's happening in the world, we here at Duetto think it's important to take a break from the chaos and focus our attention on something — née someone — we find especially talented and inspiring.
To mark Women's History Month we are celebrating the brilliant women of Duetto.
Here, we talk with Isabel Eisenach, Solutions Engineer, EMEA, about how she ended up in the perfect job despite having no idea what that job actually looked like, meeting primatologist Jane Goodall, and the importance of asking questions.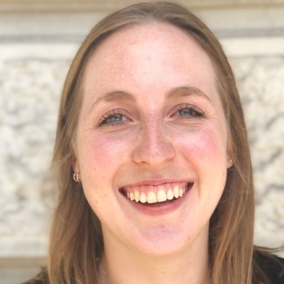 Who was the most influential female in your life?
I have two—my mother and younger sister. My mom's unwavering support gave me the confidence to go ahead and gib mein bestes (translation: give my best). My sister has shown strength through thick and thin and always reminds me that you're never in it alone.
Which woman from history most resonates with you?
Jane Goodall visited my elementary school and her natural compassion always stuck with me. Her focus on every individual's ability to make a difference, no matter how small, is a simple but powerful reminder for everyone.
What did you want to be when you were a girl? And how did that change as you grew up?
I don't think I can really pin it down to one thing in particular, but likely not a hotel revenue manager or solutions engineer. Growing up, I moved every three years, so I was exposed to a diverse cast of people. I chose to go into hospitality because I knew I wanted to be in an international environment and a people-centric industry.
What do you most love about your current role at Duetto?
As a Solutions Engineer at Duetto, I feel lucky to have the best of both worlds. Primarily I can leverage my knowledge of hospitality technology and experience in revenue management to support the sales team in their conversations with both prospects and existing clients. In an exciting time full of new hospitality technology, this can range from a straightforward setup to being part of a larger tech stack change-over with associated nuances. It can mean going from first time RMS implementation to a strategic change-over. In all cases, we love a challenge!
At the same time, I am privileged to also function as the Customer Success Manager for one of Duetto's early adopters in EMEA which keeps me in touch with the product, new features Duetto is constantly releasing and innovative ways hoteliers are using it today. Being part of the full customer journey, learning something new every day and seeing the close contact fostered during the pre- and post-sales process is very motivating.
How did you come to join Duetto?
After transitioning into hospitality technology about three years prior, I found myself exploring the thought of a new challenge in Spring 2019. While catching up over a coffee, someone who knew me very well professionally casually mentioned seeing the job posting for a Solutions Engineer at Duetto and that they found it suited my strengths. It stuck in my mind and later, when reading the job description, I thought the same: a blend of customer facing support, sales and technical knowledge. Ultimately, the interviews with the team convinced me. I felt the passion and motivation for progress, and I couldn't help but want to be a part of it.
What one piece of advice would you give to girls today considering their career options?
Situations where you are expected to know everything are rare. Find a culture where asking questions and open communication is a palpable part of the DNA. This is where you can grow, and it will allow for confidence in taking steps into uncharted territory.