In 2018, we have some big goals as a company. We are thinking bigger - and differently - to arm you with the technology products that you need to drive revenue for all aspects of your business.
That is why we are more than a Revenue Strategy Solution. We are a Revenue Strategy Platform. What does that mean? That means instead of point solutions, we are bringing you a suite of applications and services that are designed to increase revenue by making your data accessible and actionable.
In Winter '18, we have not one, but two brand new products that will help you do just that. We also have a new user experience that will allow you navigate between these products fluidly.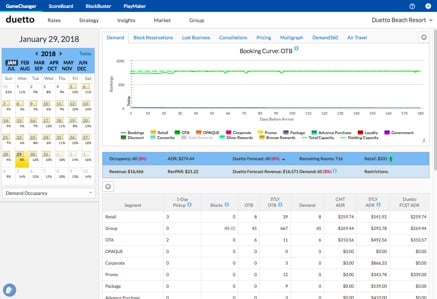 PlayMaker
We are so excited to announce that our PlayMaker product is now GA. PlayMaker allows you to drive more direct bookings and shift business away from the OTAs by personalizing your guests' booking experiences.
Merchandise room types, packages, and loyalty rates by engaging guests with delightful experiences tailored just for them.
To learn sign up for our webinar in March - invite coming soon!
BlockBuster Html5 Not support This video Format.
Close the communication gap between sales and revenue management and say goodbye to the days of time-consuming back and forth negotiations around your group business. BlockBuster is more than just optimized rate recommendations per room type. Complete with visibility into your group pipeline and configurable approval processes, your sales and revenue teams will collaborate, move faster, and close more business.
To learn more, check this out.
ScoreBoard
We know that forecasting your revenue means more than forecasting just rooms and ADR, which is why we have added the ability to forecast other revenues in My Forecast. These 'Other Revenue' or ancillary revenue projections can make or break your ability to hit your forecast/budget numbers as your hotel widens its reach beyond just the room offering.

We have also added a "Custom Fields" feature that allows you to group your hotels according to a characteristic, such as region, and report on it at a cross-property level. This capability allows you to group like hotels together to assess and compare performance.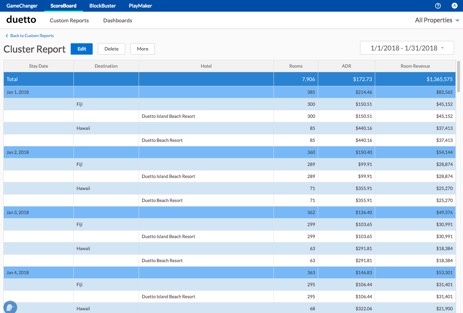 Learn more in our Winter '18 Release Notes, available on our Help Center.