If there's an indoor water park open in the U.S. or Canada, David Sangree has most likely been to it.
Sangree has been appraising hotels, performing market analysis and conducting feasibility studies for 30 years, and founded Hotel & Leisure Advisors in 2005. From the beginning, Sangree built a particular interest around water park resorts. He's a nationally recognized expert on water parks and has performed more than 600 studies of indoor and outdoor water parks since 1999, maintaining databases of statistical information and performance figures.
[bctt tweet="Water park resorts ride demand wave #hotelnews #RevenueStrategy" username="OptimizeDemand"]
As more hotels across the country look to water parks as a unique demand driver, we caught up with Sangree to get a better understanding of the industry's unique Revenue Strategy.
Can you summarize the current state of the water park industry?
As it relates to water parks connected to hotels, there are hotels with indoor water parks and hotels with outdoor water parks. In the Northern U.S. and Canada, nearly all are indoor and the minority are outdoor. In the South, you have a number of resorts with outdoor water parks only, but resorts with a predominantly indoor water park are becoming more popular.
For example, the Great Wolf Lodge in Grapevine, Texas, has done very well, and that paved the way for additional proposals for development by the managers of Wilderness Resorts in Grapevine and a new Kalahari Resort in Round Rock, Texas.
Across the country there are some unique properties being developed, including the expansion of the Kalahari Resort Poconos in Pennsylvania, which will open this year as America's largest indoor water park. Great Wolf Lodge just opened a property in Colorado Springs that was built in a hotel that was never completed, and they've purchased and are redeveloping existing water park resorts in Bloomington, Minnesota, and Gurnee, Illinois.
What's the forecast for Summer 2017?
The indoor water park resort industry is doing pretty well right now, in correlation with the hotel industry. Both occupancy and ADR levels are up, so we are projecting it to be a strong year for the industry.
Although there are a few unique projects, there is a lot less supply coming online in the water park resort industry than in the hotel industry today, mostly because large indoor water park resorts are so expensive to build.
What are some general water park demand trends?
Indoor water park resorts do well whenever school is out of session: the entire summer, weekends, Christmas break and Spring break. Outdoor water parks are typically only open in the summer months.
RELATED ARTICLE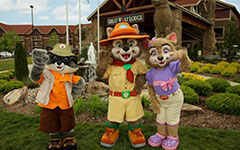 Duetto Presents: Great Wolf Lodge
An outlier is the Orlando market, where you have a high number of tourists coming from around the world and the resorts aren't just relying on local schools.
The demand is primarily from within driving distance; a smaller percentage of families are flying in. Overnight guests are typically from within a 1-hour to 5-hour drive.
What about occupancy trends?
Indoor water park resorts will typically sellout during school breaks in the winter months, and on most weekends throughout the year, especially in the summer.
During the week when school is in session, many of them are very slow, so they've turned to conference and meeting space. Kalahari, for example, attracts a lot of group demand during the week, which balances out the weekend leisure demand.
What types of groups do water parks attract?
There are some groups that wouldn't want to go to a water park and some that think it's a great idea because their children can tag along. So water park resorts are getting a higher percentage of associations and other family friendly groups, and a lower percentage of a true corporate group where families are unlikely to come.
Is the water park or the hotel the main driver of demand?
At most resorts, water park usage is included in the room rate, so the water park is an amenity to the hotel to get people to come to the hotel and stay overnight. The room rates are generally higher because overnight hotel guests get a water park pass and then use the pass whenever they want to.
How are technology and data helping the industry?
A water park would want to have all the information that a resort hotel would want to have: where the customers are coming from, how much they're spending, what type of amenities they're interested in at the resort. They would want to have a sophisticated computer system to help them do that.
What performance and pricing data are key for water parks?
They place a pretty high importance on both occupancy and rate. They don't want to give the rooms away for too low a price because it causes the value of the product to drop. They want to get a good ADR in addition to a strong occupancy.
A good water park resort is going to have a professional revenue manager. They offer discounts when they're slower, typically during the midweek, and during busier times they try to raise their rates as much as they can.
Are water parks able to track total guest spend?
They track figures on a per-occupied basis, so if your room rate is $200, the total spend per occupied room may be twice that as guests will spend money for food and beverage, retail, arcade, spa and other services. Some hotels have added RFID bracelets so the guest can walk around in a swimsuit and avoid carrying cash or credit cards with them. That is another way they can track spending.
RELATED ARTICLES: