Now 11 years in, STR's Hotel Data Conference has become one of the most well-respected annual industry events because of its ability to deliver fresh, data-driven content in a fantastic destination with the right audience size and makeup.
This year, with economic uncertainty on the horizon, many hoteliers came looking to get a better understanding of what their business will look like at this time next year. An impending downturn was on everyone's mind, as were rising labor costs—a one-two punch that has hoteliers tightening cost-cutting measures in preparation for a dip in the cycle.
Fortunately, speakers said, with all the data available today, hoteliers have a solid understanding of their business and how to maximize all areas of revenue. Revenue teams have better visibility into the data—upcoming demand patterns, non-room spend data, net profitability data—than ever before.
Ways to optimize hotel revenue outside of the rooms was a hot topic, including conversations around more data-driven food-and-beverage decisions, group business decisions and the impact of home sharing on hotel performance.
Here are 5 takeaways from the 2019 Hotel Data Conference at the JW Marriott in Nashville: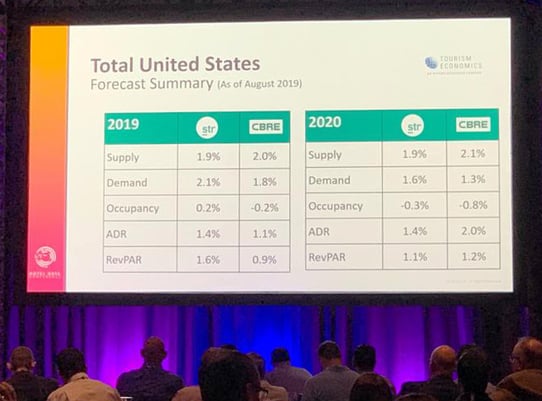 1. Cloudy Forecast Ahead
"We are in one of the best times in the hotels business of my lifetime," said David Duncan, president of owner-operator First Hospitality Group.
Enjoy it, he said, because it might not last long.
"Having lived through cycles...the time [for a downturn] is near," said Mark Laport, founder and CEO of Concord Hospitality, a leading hotel developer, owner and operator.
Laport said downturns typically come post-election, so he suggested things will remain calm for the coming year and then in late 2020 he expects a dip in the cycle—something the industry hasn't experienced in nearly 10 years.
While declines in vacation travel are never good, it is declining "corporate transient," or business travel, that signifies trouble ahead.
"We've heard corporate transient is slowing, so that's concerning," said Amanda Hite, president and CEO of STR. "We need corporate investment to speed up, not slow down."
At the end of the day, both CBRE and STR forecast industrywide occupancy to decline in 2020, which will suppress rate growth and lead to very little RevPAR growth of around 1%.
However, "Don't freak about all the negative stuff," Hite suggested. "It's about confidence—understanding your business, your properties, and being confident in your strategy."
At least the industry is going into this downturn in a great position, with the highest occupancies in history, Laport suggested. "We're building 13 hotels right now and now I'm thinking I'm nuts," he said after hearing STR and CBRE's forecast.
Duncan felt similarly. "From an operator's perspective we're in great shape right now," he said. "From a developer's perspective, I can't wait for the crash so we can buy stuff cheap."
2. The Labor Cost Creep
There are always several factors that play into an industry downturn, and this time around it seems most of the finger pointing will be at labor costs, where cost growth is outpacing revenue streams.
"Clearly we have a labor challenge and we traditionally operate with low employment," said Mark Woodworth, senior managing director at CBRE Hotels Americas Research. "It's now all about understanding the impact of occupancy and the cost of that business. Understanding the net rate is the drum we continue to beat most frequently."
Mike Deitemeyer, president and CEO of Interstate Hotels & Resorts, said he is concerned about the effect of rising wages on profitability.
"Disney overnight went to $15 minimum wage," he said. "We have to keep ratcheting up pay—there is more and more pressure for our industry—and wage costs have been outpacing revenue growth for a while now."
"I still have PTSD from the last recession," said Michael Blank, principal at Woodmont Lodging, a hotel investment and asset management group. "I'm constantly pushing our management companies to keep the staff lean. I'm always thinking about how to save a buck no matter what time it is."
Blank said labor is the most impactful thing a hotel can cut, which is why many companies are looking at contracting housekeeping.
3. Preparing for a Downturn
Unfortunately, an impending downturn seems to be more of an "when" than an "if." So smart hoteliers are starting to prepare now.
"We are looking every day at how we can cut more, regardless of a recession," added Christine Herrington, VP of asset management at Park Hotels and Resorts. "In many markets we're challenging our revenue managers to look at business differently. Take your ego out of it. If you haven't traditionally taken a particular revenue stream on weekdays in the summers, it's time to re-look at that."
Herrington suggested little things like considering a grab-and-go food option over a full-service kitchen. "There's no cherry-picking left. We need to really dig in," she said.
Blank cautioned against knee-jerk rate discounting. He said he fears now that hotels have more ability to change rates, and since "panic begets panic," the industry could see more reactionary rate changes more rapidly, which could in-turn progress a downturn.
4. The Realities of Non-Room Revenue
Another way to combat rising costs and decreasing room revenue is to look outside of the rooms for addition revenue sources and ensure you've got an optimal strategy in place there, panelists suggested.
"A lot of things we've considered amenities for a long time are now profit centers," said Jack Easdale, senior VP of revenue management and enterprise analytics for the Venetian and Palazzo resorts.
Laport said Concord is building lifestyle hotels with what he called B&F (beverage and food) because there are more opportunities to drive revenue in the bar and restaurant.
"People will nickel and dime on room rate but get them in the bar and they're happy to spend money," he said. "The margin growth is in the restaurant and bar, the non-hotel part of the business."
Nicole Young, senior corporate director of global revenue management at Rosewood Hotel Group, said revenue systems are missing the mark when it comes to dynamically pricing F&B. She also said there are opportunities for hotels add additional revenue through dynamic parking rates.
Easdale agreed.
"We have major groups that come through every year," he said. "Group A might drink tequila and Group B might drink bourbon and we can change our prices appropriately. We can do F&B offerings by time, by group. Do we have the RMS to do that today? No, but it's certainly possible."
"There are definitely times throughout the day I would pay more for a drink," Young added.
5. The Right Metrics
The debate continued at HDC over whether revenue and its associated indexes were the best measurement of hotel success.
"RevPAR Index is a sign we're doing things right," said Colin Reed, chairman and CEO of Ryman Hospitality. "Forecast accuracy is also important because I have to show an owner we understand the business and can manage that. Optimal flow is also critical."
"We appreciate RevPAR Index but also understand it's not the only number. You have to look at the bottom line," STR's Hite added.
So, should the revenue optimization team become the profit optimization team? After all, "Most of us have been in a spot where the most revenue isn't in the best interest of our owners," said Young of Rosewood.
"Wall Street will say you are judged by RevPAR but shareholders don't want me making decisions on RevPAR," said Sands' Easdale. "I believe there is still room to grow. Revenue management has traditionally been solely for the revenue capture, but in my opinion it should be more at the forefront and also working on value creation.
"We have 7,092 rooms," Easdale said. "I want my 7,092nd guest to almost be sick at what they paid, and my 7,093rd guest to opt to choose a competitor based on price."