Mobile is not a future trend. It's here now. And it's growing. So the answer to the question many hoteliers are asking—does my hotel really need a mobile strategy—is an emphatic yes.
"The mobile channel is extremely important as technology continues to advance and more and more consumers purchase travel via their mobile device," says Nathan Crisp, Senior Director of Strategy for Duetto. "It's probably one of the most important channels that continues to grow exponentially year-over-year."
According to a recent study by Google, more than half of smartphone users (51%) turn to their device in I-want-to-go moments and, of those, 71% do so at least weekly. Most often, they're seeking discounts and researching activities to do before and during their trip.
[bctt tweet="Here are three of the top elements of a strong mobile strategy." username="OptimizeDemand"]
A report by Expedia Media Solutions echoed the same findings. The report found that since September 2015, more total minutes of U.S. consumers' engagement with online travel content occurred on smartphones and tablets than on desktop computers.
A hotel's mobile strategy should be just as important as its desktop strategy—if not more so. But how should a hotel enter the mobile game? What are the most important elements for a strong mobile strategy? And should hotels consider a dedicated app?
Below, Crisp offers his insights, starting with the three of the top elements of a strong mobile strategy:
Hotels need a mobile-specific search engine marketing strategy with targeting. Methods for reaching mobile-savvy travelers can and should be similar to desktop strategies, but in order to succeed they must be tailored to this growing channel. Mobile-friendly calls to action, like click-to-call, are smart additions that can improve the user experience and drive bookings.
Strategically targeted offers can shift demand or consumer behavior. As a rule, pricing should be consistent across all channels. The exception to this rule is when there is an opportunity to drive revenues by offering a discount in order to shift share in a specific channel. (It's important to note that this could cannibalize other channels.) With mobile, the booking window is extremely short and could be used to strategically compete with OTAs or to attract guests with location-based marketing. If a strategy is undertaken to shift demand to the mobile channel, then offers should be optimized to target the preferred behavior of the consumer (i.e. target a specific booking window, specific length of stay, etc.).
Fully optimize mobile websites so that they are completely responsive—especially landing pages. Too often hotels spend money attracting users to their websites but then lose them to a poor landing experience. Focus on ensuring that your website is fully responsive, meaning that the website responds to the device on which it displays and ensures the consumers' experience is optimized.
Apps vs Optimized Websites
Smartphone users are tech-savvy. They also have higher customer service expectations that hotels must meet. Apps that are streamlined and don't take up a lot of space, such as the newly released Marriott Mobile App, can help satisfy these expectations. But an app might not be the best solution for every hotel.
"Consumers generally don't download apps unless they get a significant amount of use out of them," says Crisp. "The incremental cost of building and maintaining an app across multiple platforms doesn't always provide the necessary returns."
According to the Google report, more people turn to mobile sites for travel than apps, but each has a role to play. For instance, travelers rely on apps to track loyalty programs and access digital boarding passes, while mobile sites are used to research activities.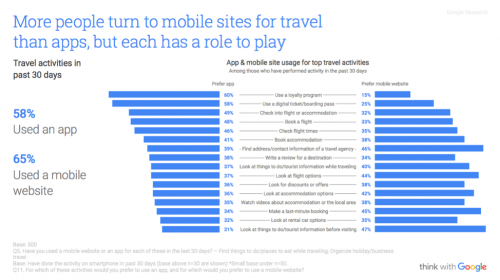 For guests who do use an app, simplicity and size are key. According to the report, 30% of guests abandon apps when they need to free up memory, 29% abandon apps when they no long have a need for it and 28% abandon apps when they aren't as useful as they originally thought.
Ultimately, Crisp believes hotels are better off investing money into a fully responsive and optimized website that is device agnostic instead of investing in an app. Because when they do, mobile can offer many opportunities to connect with guests, tap into a new source of revenue, enhance customer service and increase loyalty.
RELATED ARTICLES