2017 is no time for hotels to merely "manage." Around the industry, signs in the latest available research and comments heard at the Americas Lodging Investment Summit seem to indicate that this year could be one of slow growth for revenue per available room.
Any modest rise in RevPAR is expected to be driven mostly by higher average daily rates; STR projects total occupancy to decrease slightly this year.
With a premium placed on holding rate and yielding prices higher on those harder-to-come-by compression nights, hotels can't get by with just passive revenue management. This year, they will need to movd toward Revenue Strategy that incorporates not only dynamic pricing, but also greater knowledge of distribution, digital marketing and new loyalty strategies.
[bctt tweet="The quickest ways for #hotels to move from RM to #RevenueStrategy" username="OptimizeDemand"]
Getting started down the path toward a more holistic hotel Revenue Strategy isn't easy. But some experts, like Greg Allen and Gabriela Guevara of Duetto's Managed Services team, lent their insights into which first steps make sense for revenue managers at hotels of any size.
"DORMs forget that they can be creative," Guevara said. "It's almost like an art. Strategy is white canvas, and you don't want to be in the management of just coloring within the lines."
Learn new strategies constantly
For properties to be more strategic in how they not only price rooms but also manage marketing, operations and profitability, the revenue management leaders must embrace a culture of self-education.
Related Video: Hotel Revenue Management and Digital Marketing Merge
Html5 Not support This video Format.
Allen and Guevara agreed that a director of revenue management needs to learn the inner workings of other departments, and she must stay on top of new trends and strategies affecting those departments.
"That's transitioning for revenue managers, from just pricing and seasonality to studying digital marketing, Google Analytics and Google Adwords," Allen said. "What are the appropriate words you could spend money on to drive people to your brand.com and drive direct business?"
Guevara said finance is another important discipline for revenue managers to learn, as well as marketing.
"I think it's very important in the future to be educated in all fields," she said, "not only number crunching but also understanding the financial impact to the bottom line of the decisions I make."
Many hotels should consider placing the revenue management team and its leader higher up in the organization's hierarchy than they typically have been. General managers might still make the final call on strategy, but the director of revenue management likely needs to have more input, Guevara said. And hotels are starting to realize that there should be a lot more collaboration across all departments.
Stay focused on the long term
While neither Allen nor Guevara could predict with certainty if or when a hotel recession might hit, they characterized the hotel industry as "not out of the woods" and suggested that properties put strategies in place to protect against potential downside risks.
"I think the trend will prevail for another two years in terms of ADR and RevPAR growth," Guevara said. "How do you combat that? I've seen properties fill up with wholesale and FIT just to have some sort of base. You hear people say, 'Group up.' But group is down."
There are ways to aggressively build your base in a smart way, Allen said. The first thing to do is always have 365 days open in front of you so that the property can layer in business bit by bit, first with segments like fenced and opaque rates. With enough lead time, a revenue manager can also be aggressive with group quotes, he said.
RELATED ARTICLE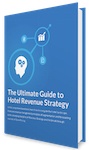 The Ultimate Guide to Hotel Revenue Strategy
It might sound basic, but revenue managers need to look beyond just a 90-day booking window and they need to work on their pricing every day, Guevara added.
"I see some DORMs not touching their pricing because they're so focused on the next 90 days," she said. "You can't affect as much within that 90-day window as you can outside of it. Focus rather on that big picture than just panicking and having to fill the house."
Partner with OTAs where it makes sense
Allen and Guevara said revenue managers should not close off working with market managers from online travel agencies. In many cases, especially in low-demand periods of need for the hotel, an OTA is up on consumer trends and willing to develop a mutually beneficial promotion.
"It's great to drive direct business, but it is difficult in this world," Guevara said. "People have options. In one sense, OTAs are a brand, and people are loyal to that brand."
She also noted that OTAs can pull different levers with a hotel beyond pricing to improve a property's placement in the sort order of search results. Revenue managers also need to make sure the content for the property on an OTA listing is compelling, and the market manager might offer an insight into what's causing a less than stellar review for the hotel.
"The OTAs are moving to that concept of client service [for hotels]," Guevara said. "They're catching on to everything needing to be personalized now based on your needs, rather than just a heads-in-beds approach."
RELATED ARTICLES